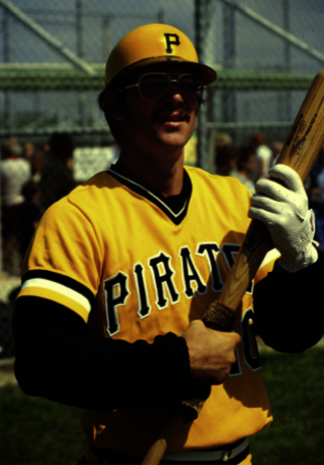 Baseball Trades: In a trade of shortstops- the New York Mets sent Tim Foli to the Pittsburgh Pirates for Frank Taveras and minor league pitcher Greg Field.
Yesterday's trade the Carlton for Wise trade was one of the most significant trades of the 1970's in that it had a major impact on who won a number of National League East division titles in the 1970's. The Foli for Taveras trade ended up having an impact on the 1979 season.
Being an avid Pirates fan all my life- I must admit when this trade was made- while I had a positive response to it- I wasn't jumping up and down with joy [a couple months later when they traded for Bill Madlock- that is when I got excited- when I heard they made the Madlock deal my first thought was- the Pirates are going to win the World Series.]
Frank Taveras was – erratic. His big asset was stealing bases. His nickname- the Pittsburgh Stealer. He led the National League with 70 steals in 1977. In 1978 he stole 46- BUT he was thrown out 25 times in attempting to steal- leading the league in that category. That isn't a good percentage. Taveras had no power, in his entire 11 season career he had 2 home runs. He was a career .255 hitter. He didn't walk- his on base percentage for his career a terrible .301. Some of this could be forgiven- if he was a wiz defensively but he wasn't. He was well- erratic- lackadaisical. He could make a great play one inning and boot a ball hit right to him the next. He was 29 years old in 1979. He was what he was- and the Pirates went into the 1979 season with playoff hopes. Frank Taveras at shortstop was a liability. Looking back I don't know why they didn't address this problem in the off-season.
Tim Foli had been the #1 pick in the 1968 Amateur Draft. Foli never developed into the star you would hope the #1 pick would become but he was a solid player. He was most known for his intensity. When you look at him offensively in his career- his average was .251 his on base percentage .283- both lower than those of Frank Taveras. He wasn't much of a base steal- 13 was his career high. He was solid defensively. This was the reason for the trade I believe- the Pirates had enough hitting what they needed was someone to give stability to the position defensively. Foli's strength's were his intensity and defense.
How did the trade turn out? I can't say this was a bad trade for the Mets- because the Mets were very bad. If they didn't make this trade they would be very bad. From 1977-83 they would finish last 5 times and next to last the other 2- with Foli this wouldn't have change. Taveras was pretty much the same player in New York that he was in Pittsburgh in his three seasons as a Met.
Now where this trade was important- is what Tim Foli did for the Pirates in 1979. Foli was placed in the number two spot in the Pirates batting order- in front of him was Omar Moreno- Moreno was a base stealer-he led the league in steals with 71 in 1978 and in 1979 he again would lead the league with 77. Foli would benefit from batting behind Moreno- he would see a lot of fast balls. He would also benefit from hitting in front of Dave Parker. Foli was good at doing little things- he had 19 sacrifice bunts in 1979. He hit .288 the best of his career. [After the trade he hit .291 as a Pirate] Probably the best thing he added to the team- was solid defense. Where Taveras frustrated you with his shaky defense- Foli made the plays that needed to be made. He also seemed to fit in well with the Pirates. He was an intense, fiery guy. When the Pirates added Bill Madlock at third a couple months later- Phil Garner was moved to second base- and the Pirates were very good defensively up the middle with two scrappy guys who worked well together.
The Pirates ended up being in a pennant race all summer with the up and coming Montreal Expos. They wouldn't clinch the division until the final day of the season. In the end they finished 2 games ahead of the Expos. I would maintain without the trade- and if Frank Taveras had remained at shortstop- the Pirates would have finished second and failed to make the playoffs- and wouldn't have won the World Series. So this seemingly small trade- turned out to be very important. NOTE- In the 3 game playoff series against the Cincinnati Reds- Foli hit .333. In the 7 games World Series against the Baltimore Orioles- Foli hit-.333. He had 10 hits in the World Series and scored 6 runs.
Below attached is great article on Foli and his 1979 contributions.
https://theathletic.com/1087244/2019/07/20/crazy-horse-how-fiery-tim-foli-found-a-home-with-the-1979-pirates/