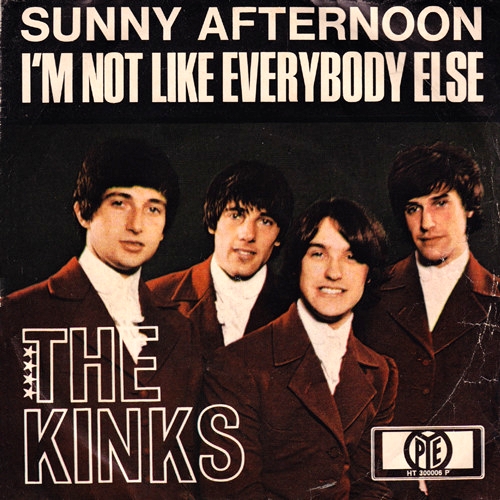 100 Great Songs From The British Invasion: 1963-1966: 'Sunny Afternoon'- The Kinks. The Kinks satirical 'Sunny Afternoon' was one of the biggest hits of 1966 in the UK- in the United States it did well-peaking at #14. A this point in time in the United States The Kinks from 'You Really Got Me' to 'Sunny Afternoon'- The Kinks had 8 Top 40 hits- but 'Sunny Afternoon' would be the final American Top 40 Hit for The Kinks- until 'Lola' in late 1970. Even The Kinks 1967 masterpiece 'Waterloo Sunset'- failed- it didn't even crack the Hot 100 in the US. Meanwhile in the UK the hits continued- for the rest of the decade they had 9 Top 40 hits. It was like America forgot The Kinks. What happened in the US? The Kinks were banned from touring in the America by the American Federation of Musicians- due to their hard drinking and out of control behavior which at times spilled over to the stage. Also in 1966 Ray Davies suffered a mental and physical breakdown. The ban ended in 1969 but by that time America seemed to have forgotten The Kinks- at least their momentum that had been built in their early years had been stopped.
The Kinks and chief songwriter and bottlewasher Ray Davies by 1966 had changed musically from the power chord beginning of hits like 'You Really Got Me' and 'All Day And All Of The Night' to more satirical and literate songs like 'A Well Respected Man', 'Dedicated Follower Of Fashion' and with 'Sunny Afternoon'- a music hall sound- which lyrics which like The Beatles 'Tax Man' attacked the British high levels of progressive tax structure.
Single: 'Sunny Afternoon'- The Kinks/ Written by Ray Davies/ Record Company- Reprise/ Time: 3:36/ Produced by Shel Talmy/ Recorded May 13, 1966/ Released June 1966 in US- June 3, 1966 in UK/ Peaked at #14 in US Billboard Hot 100 and #1 in UK Singles Chart.