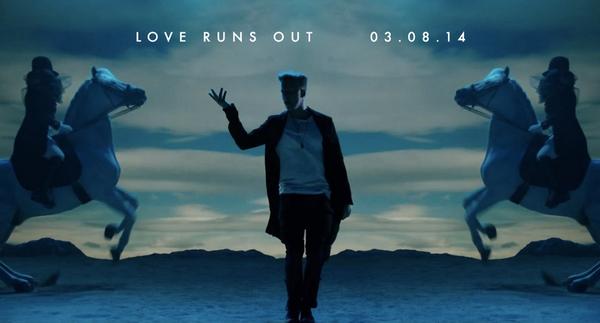 We are in the 7th round of the 2021 Song Draft and I'm throwing a curveball at you this round. If you've been following my choices up until now, they are all what many would consider to be "oldies." Almost all of them have a local (Michigan/Detroit) link to them. For this round, I have chosen a song from recent years that I thought should have been a bigger hit than it was – Love Runs Out by OneRepublic.
If I am being honest with you, I rarely listen to new music. As a matter of fact, I hate most of it. However, while working at the Adult Contemporary station in town, I got to hear many of the current hits at the time. It is interesting to note that even when I was DJing high school dances or proms, much of the music that was being requested was heavy rap or songs that were inappropriate for school dances! I always had the "Mainstream Radio" hits available (clean versions), but the kids always wanted to hear that other stuff.
OneRepublic was formed in Colorado and is one of those cool success stories. The group consists of Ryan Tedder, Zach Filkins, Drew Brown, Brent Kutzel, Eddie Fisher, and Brian Willett. Ryan and Zach went to high school together in Colorado Springs in 1996. They went to separate colleges and eventually reconnected in 2002 and formed the band with some friends.
Back in the day they had a MySpace (remember that?!) page that featured their music. This led to them to play many shows in the Los Angeles area. Eventually, after many labels approaching them, they landed a record deal. They were dropped by their label just a couple months before their first single "Apologize" was released. In 2007, Timbaland remixed it and released the single, which became a number one song in 16 countries!
In 2013, the group released their 3rd album, Native. Love Runs Out was not even on the album until it was reissued in 2014. Ryan Tedder in an interview said, "We have a new single that's not even on the album that's about to drop. I can't quote the date." He says, "I wanted ["Love Runs Out"] to be the first single, a few of us in the band did, but I could not finish the chorus. And you can't have a song without a chorus." Approximately a year later, they had a chorus. The group appeared on The Tonight Show with Jimmy Fallon and explained how it all came together:
The first time I heard the song, the driving bass drum caught my attention. Then you have this piano playing the same note over and over. It kept building and I was literally listening to see what would happen next. Ryan Tedder's vocal is fantastic in this song. It's almost like two people are singing it. You hear the "softer" Ryan on the verses and then he takes it up a notch on the chorus! His voice cuts through this song and I love it!
The song peaked at #15 on the Hot 100 chart, but I really felt like this was a number 1 song. It should have been.
Love Runs Out
I'll be your light, your match, your burning sun
I'll be the bright in black that's makin' you run
And we'll feel alright, and we'll feel alright
'Cause we'll work it out, yeah, we'll work it out
I'll be doin' this, if you have a doubt
'Til the love runs out, 'til the love runs out
I'll be your ghost, your game, your stadium
I'll be your fifty-thousand clapping like one
And I feel alright, and I feel alright
'Cause I worked it out, yeah, I worked it out
I'll be doin' this, if you have a doubt
'Til the love runs out, 'til the love runs out
Chorus:
I got my mind made up, man, I can't let go
I'm killing every second 'til it sees my soul
Oh, I'll be running, oh, I'll be running
'Til the love runs out, 'til the love runs out
And we'll start a fire, and we'll shut it down
'Til the love runs out, 'til the love runs out
There's a maniac out in front of me
Got an angel on my shoulder, and Mestopheles
But mama raised me good, mama raised me right
Mama said, "Do what you want, say prayers at night"
And I'm saying them 'cause I'm so devout
'Til the love runs out, 'til the love runs out, yeah
Chorus:
I got my mind made up, man, I can't let go
I'm killing every second 'til it sees my soul
Oh, I'll be running, oh, I'll be running
'Til the love runs out, 'til the love runs out
And we'll start a fire, and we'll shut it down
'Til the love runs out, 'til the love runs out
Bridge:
Oh, we all want the same thing
Oh, we all run for something
Run for God, for fate, for love, for hate
For gold and rust, for diamonds and dust
I'll be your light, your match, your burning sun
I'll be the bright in black that's makin' you run
Chorus:
I got my mind made up, man, I can't let go
I'm killing every second 'til it sees my soul
Oh, I'll be running, oh, I'll be running
'Til the love runs out, 'til the love runs out
And we'll start a fire, and we'll shut it down
'Til the love runs out, 'til the love runs out
I'll be your light, your match, your burning sun
I'll be the bright in black that's makin' you run
And we'll feel alright, and we'll feel alright
'Cause we'll work it out, yes, we'll work it out
And we'll start a fire, and we'll shut it down
'Til the love runs out, 'til the love runs out
'Til the love runs out