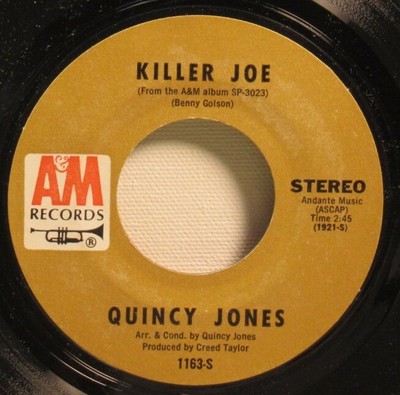 Every Billboard Hot 100 Single 1970: #251: "Killer Joe"- Quincy Jones. May 16, 1970.
Single: "Killer Joe"- Quincy Jones
Record Company- A&M
Genre: Jazz
Written by Benny Golson
Time: 2:45
B-side: "Maybe Tomorrow"
Album-Walking In Space
Grade: B
Peaked at #74 4 weeks in the Billboard Hot 100.
Quincy Jones- born in Chicago in 1943 -songwriter, conductor, producer and arranger- as a recording artist had 13 Hot 100 singles with 6 making the Top 40. His biggest hit #14 "One Hundred Ways" with James Ingram in 1981. "Killer Joe" was his first appearance in the Hot 100. Of course Quincy Jones will go down first and foremost as Michael Jackson's producer. Jones was inducted into the Rock and Roll Hall of Fame in 2013.