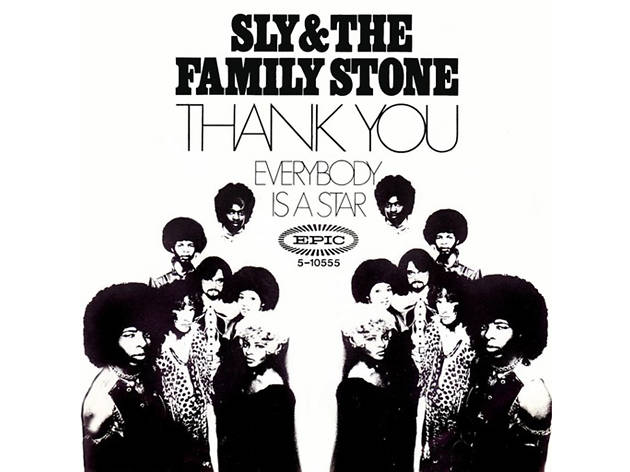 Every Billboard Hot 100 Single 1970- There were 650 singles that made the Billboard Hot 100 in the year 1970. Last year I started doing the 1969 singles in May- with starting 1970 on New Years Day- I will do one or two a day and have more than enough time to get them all finished by the end of 2020. There were nine singles that entered the Billboard Hot 100 on January 3, 1969. The first one would be one of the greatest singles of the year.
Single #1- "Thank You [Falettinme Be Mice Elf Agin}" / "Everybody Is A Star"- by- Sly and The Family Stone.
Record Company- Epic
Genre: Funk/ Soul.
Written by Sylvester Stewart- both song
Time: 4:48/ 3:00
B-side: This was a Double A record with both sides getting substantial airplay.
Album: Greatest Hits
Grades: A+ and A+ both sides of the single!
Peaked at #1 for 2 weeks and spent 13 weeks in the Billboard Hot 100.
On the Soul singles chart it spent 5 weeks at #1.
Rolling Stone Magazine ranked "Thank You" at #410 on their 500 Greatest Songs Ever list.
The Rock and Roll Hall Of Fame included "Thank You" in their 500 Songs That Shaped Rock and Roll list.
The second of three #1 hits by Sly and The Family Stone a ground breaking interracial psychedelic soul band from San Francisco. Their other two #1's "Everyday People" in 1968 and "Family Affair" in 1971. They had 20 Hot 100 hits from 1968-79.
"Thank You" and "Everybody Is A Star" originally was going to be an album that Sly and The Family Stone was working on but that was never completed – but along with "Hot Fun In The Summertime" ended being tacked onto Sly and The Family Stone's Greatest Hits. After a 20 month gap between studio albums "Family Affair" was finally released in late 1971. Today of course a band releasing albums 20 months apart would be considered quick- back then it was a long.
In "Thank You" in the third verse there are references to past Sly and The Family Stone hits- "Dance To The Music", Everyday People", "Sing A Simple Song" and "You Can Make It If You Try." Also on "Thank You'- the songs vocals are shared by Sly, his siblings Rose and Freddie Stone, Cynthia Robinson, Jerry Martini, Greg Errico and Larry Graham. On "Everybody Is A Star"- the vocals are shared by Sly, Rose and Freddie Stone and Larry Graham.