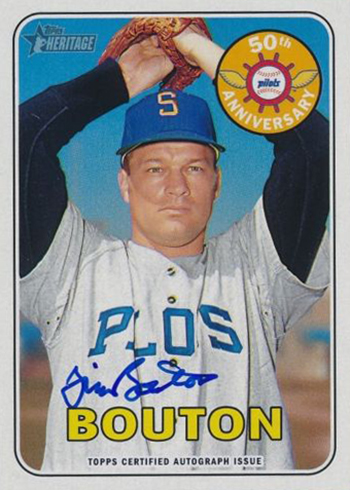 Hans Remembers- Tuesday April 8, 1969- 50 years ago today. Major League Baseball unveiled on the baseball field their four new expansion teams- expanding MLB from two- ten team leagues to two leagues with a dozen teams. Also a radical change. Up until 1969- there was the American League and National League- the winner of each league played in the World Series. In 1969- with a dozen teams in each league- two six team divisions were introduced. There would be East and West divisions with six teams each and the winners of each leagues divisions would play a seven game playoff with each winner advancing to the World Series.
Three of the four new cities that got expansion teams- in the National League the Montreal Expos and San Diego Padres- and in the American- the Seattle Pilots were new to MLB- the cities had never had teams- Kansas City- had in the 50's and 60's had the Athletics- who had moved there from Philadelphia before moving to Oakland. The A's moved to Oakland in 1968- and the next year KC got the new franchise. This year will be the 51st season for these teams- Montreal would move to Washington, D.C in 2005. There is now talk of baseball expanding again and if Montreal can come with a new ballpark they are a front runner to get a new team. That franchise- The Expos/ Nats have never been to a World Series. The San Diego Padres have been to a couple World Series but have lost both. Kansas City has been the most successful of these four teams-having gone to four World Series and having won two in 1985 and in 2015. The Seattle Pilots only lasted one season in Seattle before moving to Milwaukee to become the Brewers. They went to the World Series in 1982 but lost. The Pilots are immortalized though- due to one of their pitchers- Jim Bouton- who published his memoir of the 1969 season in which he spent most of it- with the Pilots- "Ball Four"- one of my favorite books ever- certainly the one I have read most often- I will soon write a little tribute to that groundbreaking book.
Anyway- at the ballparks on April 8- an odd thing happened- all four of the new teams- although they would be in for long seasons- would win their Opening Day game.  Seattle beat the California Angels in Los Angeles 4-3, Kansas City playing at home beat Minnesota by the same 4-3 score, Montreal went to Shea Stadium in New York and in a real slug fest beat the Mets 11-10. San Diego playing at home won a pitchers duel- beating the Houston Astros 2-1.
For the season San Diego and Montreal both ended up 52-110 finishing in last place in their divisions. Kansas City was the most successful first year franchise 69-92 and finishing 4th in the AL West ahead of Chicago White Sox and Seattle Pilots who did escape losing 100 games -going 64-98.
A note- baseball in 1969 was in a state of decline. Attendance was down- interest was down. The NFL seemed more in tune with the times. You would think the opening games in those cities would be a hard ticket to get but in San Diego they only had 23,370 for the opener and in Kansas City the stadium was half empty with only 17,688 in attendance. One thing about baseball and I have been a fan all my life- at times its popularity declines but it always seems to come bouncing back.