Hans Mount Rushmore Of All-Time St.Louis Cardinals. One of the most storied franchises in baseball history- in their history the Red Birds have won 19 National League Pennants and 11 World Series. Their 11 World Championships are second in baseball history to only the New York Yankees. The Cardinals have had a lot of great players in their history but coming up with four to put on Mount Rushmore was easy-while they have had a number of Hall of Fame players- these four stand out above the rest.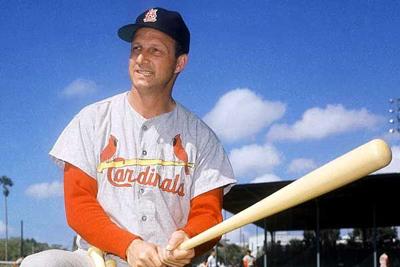 STAN' THE MAN' MUSIAL- One of the greatest players and most beloved players in baseball history.  Stan would have been a guy you wanted on your team for sure. He was one of the most consistent players ever- here is how consistent he was- in his career he had 3630 career hits- 1815 were at home, 1815 were on the road. A career .331 hitter- he also had power- 475 home runs- in a time when 475 home runs was a more impressive number than it is in recent times. He played his entire 22 year career in St.Louis.  Musial was born and raised in Donora, Pennsylvania- his birthdate is November 21st- Ken Griffey Jr. was also born on a November 21st in Donora, Pennsylvania. Junior Griffey one of the all-time greatest players- isn't even the best player born in Donora, PA on a November 21st.
2. ALBERT PUJOLS- Albert Pujols-played his first 11 seasons with the Cardinals and was clearly the Player of the Decade in the first decade of the 21st century. In his first 10 seasons he drove in over 100 runs each season and in year 11- he fell short with 99. In his eleven seasons in St. Louis he hit 445 home runs, had a battling average of .328 and knocked in 1328. He was a hitting machine through the age of 31 when he left. The Cardinals I am sure hated to see him leave but they made the right choice in not signing him to a long term deal- he left for the Los Angeles Angels and since 2012 his career has went into a decline. As a Cardinal though his numbers and impact was staggering- he won 3 NL MVP Awards, finished second in the voting 4 times and was an All Star in 9 of the 11 seasons. A certain first ballot Hall of Famer.
3. ROGERS HORNSBY- Stan The Man was one of the most liked players in baseball- by his teammates- opponents and fans- Rogers Hornsby was the opposite. A difficult man to get along with but what a hitter. Like Pujols his greatest seasons were in St. Louis where he started his career at age 19- he played eleven full seasons there- and at one point won six batting titles in a row-hitting over .400 in three of those seasons. In 1924 hit hit .424 a record which will never be topped.  He is the only player to hit .400 and hit 40 or more home runs in the same season. His career average of .358 is second only to Ty Cobb's .367. A great hitter but not a great guy to have around the rest of the team. As a manager of the Browns when owner Bill Veeck fired him the players were so happy to see him go  they gave Veeck a trophy.
4. BOB GIBSON – Intimidating- that is the word that comes to mind when I hear Bob Gibson's name. What a great competitor. He was the ace of a number of great Cardinals teams in the 60's- and if you had one game to win- he'd be on the short list of pitchers in baseball history who you would want to give the ball to. In the World Series he was 7-2 with a 1.89 ERA- completing all nine of his World Series starts. He was voted the MVP in two of the three World Series he pitched in. His 1968 season was historic- a modern day record ERA of 1.12. His record that year was 22-9- I don't know how in the world he lost  9 games. Spent his entire 17 career with the Cardinals -won 2 Cy Young Awards and the MVP Award- in 1968. Was also a fine hitting pitcher- hit 24 career home runs. Was a 9 time All-Star. In the now 50 plus years I have been watching baseball- Gibson is one of the best pitchers I have seen- the best? Probably not- but if I had to win a game- he's the pitcher I'd give the ball to. {I missed seeing Sandy Koufax pitch by a couple seasons- Koufax another great money pitcher. }