It was fifty years ago today- Friday January 31, 1969- Avatar Meher Baba- Indian spiritual master died at the age of 74. Maher said he was an Avatar- a god in human form.
I first learned of Meher Baba- from reading about The Who's Pete Townshend who is a devoted follower. The Who's most famous album "Tommy" is dedicated to Meher Baba. One of The Who's greatest songs -Baba O'Reilly is partly named for Meher Baba.
Born in 1894- as Merwan Sheriar Irani in Pune, India he began a spiritual transformation beginning at the age of 19 and lasting seven years. He would begin his own mission and began gathering disciples in 1922 at the age of 27. From July 10, 1925 until the end of his life Meher Baba maintained silence. He would communicate by means of an alphabet board or by hand gestures.
At the beginning Meher Baba worked with the poor, gave spiritual lessons and started a free boarding school. He would write books- in Discourses he would write about how to live a good life, how to meditate and how to love God. He felt that the best is to love God at all times by loving your fellow man. He was not interested in starting any new religion- he thought a person should follow ones own religion. I am certainly no expert on Meher Baba but everything I have read on this guy seems to be positive.
Meher Baba traveled all over the world a number of times in his life.
One of his most famous sayings -thanks to Bobby McFarrin- was "Don't Worry- Be Happy."
Many of his followers- celebrate July 10th the date he began his silence back in 1925- by being silent themselves on that date.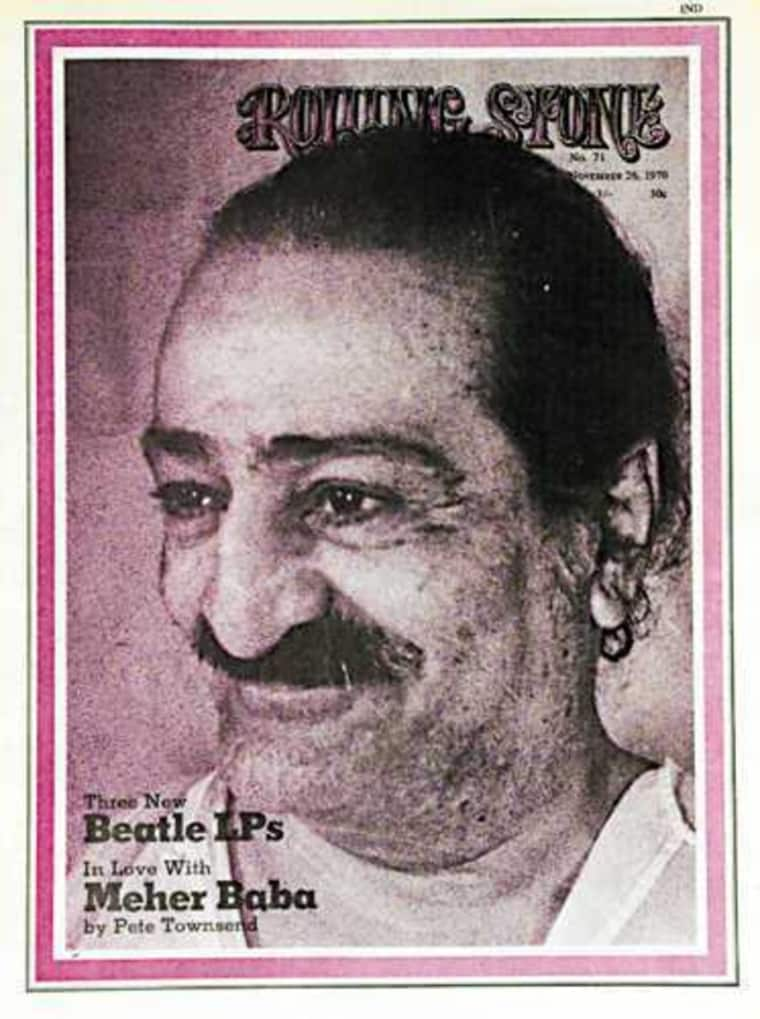 SEVEN SAHAVAS SAYINGS
Meher Baba
Desire for nothing except desirelessness.

Hope for nothing except to rise above all hopes.
Want nothing and you will have everything.

Seek not to possess anything but to surrender everything.

Serve others with the understanding that in them you are serving me.
Be resigned completely to my will and my will will be yours.
Let nothing shake your faith in me and all your bindings will be shaken off.

Real happiness lies in making others happy.

The real desire is that which leads you to become perfect in order to make others perfect.
The real aim is that which aims to make others become God by first attaining Godhood yourself.

Be angry with none but your weakness.

Hate none but your lustful self.
Be greedy to own more and more wealth of tolerance and justice.
Let your temptation be to tempt me with your love in order to receive my grace.
Wage war against your desires and Godhood will be your victory.

Love others as you would love yourself and all that is yours.

Fortunate are they whose love is tested by misfortunes.
Love demands that the lover sacrifice for the Beloved.

Real living is dying for God.

Live less for yourself and more for others.
One must die to one's own self to be able to live in all other selves.
One who dies for God lives forever.

This period of sahavas is the period of my suffering and helplessness.

My glorification will follow my humiliation.
THE PATH OF LOVE, pp. 101-102
below is a link to what The Who's Pete Townshend has to say about Meher Baba.