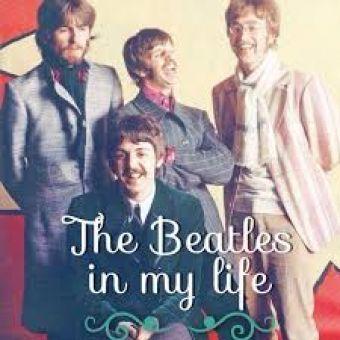 2021 Song Draft- Round 4 Pick 9- Hanspostcard selects 'In My Life'- The Beatles.
A week ago I started writing this review- and my opening line was 'Stop The Insanity!'- we were in round 4 of the draft and not one single Beatles song had been taken. Then a few days ago A Sound Day selected 'Something'- so I am now jumping on board with the second Beatles song taken. I guess I am totally blowing up the identity of the #1 choice on my Hans Hot 100 Beatles Song countdown- by taking 'In My Life'- but it is my favorite Beatles song- and is a strong strong contender for my favorite song ever by anyone. Mojo Magazine in 2000 named "In My Life' -'The Best Song Of All Time."
John Lennon considered this song -from The Beatles groundbreaking album- Rubber Soul- 'his first real major work' because the lyrics dealt with his life. When John started writing the song it was very long- based on the bus route he used to take in Liverpool. Lennon would wisely discard the original lyrics and make it more generalized. But John and Paul would later pick up that theme- of childhood memories with the greatest single ever released the Double A sided 'Strawberry Fields Forever'/ 'Penny Lane.'
I love everything about this song- to me John Lennon's voice never sounded better than on this song- and the music is perfect. There has over the years been some dispute over the music- John credited Paul with the harmony and bridge, Paul claims he wrote the entire musical structure. Producer George Martin's piano bridge part- a very memorable part of the song was sped up to sound like a harpsichord.
John would claim the idea for the song originated with a remark that English journalist Kenneth Allsop made to him- that he should write a song about his childhood. The original lyrics John claimed he hated- he said it sounded like a "What I Did On My Holidays Bus Trip' kind of song and he discarded most of it to make it more generalized. Lennon's childhood friend Pete Shotton would say that the line 'some are dead and some are living' referred to himself and John's close friend and Beatles bassist and artist Stuart Sutcliffe- who tragically died in 1962.
'In My Life' was never released as a single. What does that say about the ammunition The Beatles had to throw out there? This would easily have topped the charts.