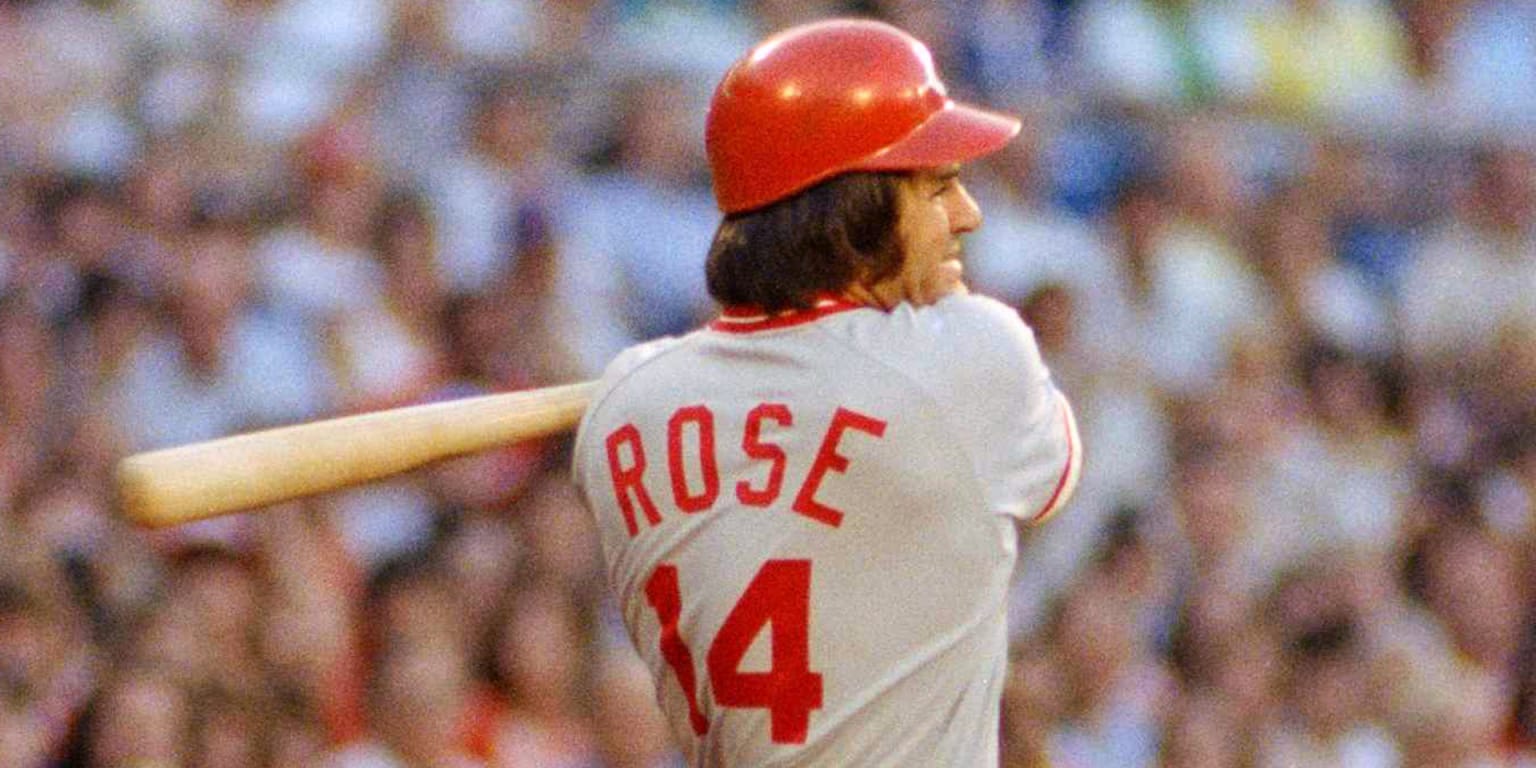 Great Baseball Moments- Pete Rose's 44 Game Hitting Streak Sets National League Record-1978.
The other day when writing about Rose's endurance record- the hit record I was someone critical of Rose in holding on well past his playing days should have been over- for selfish reasons. I can't be critical at all [except for his whining when it ended ] of his 44 Game Hitting Streak in 1978- which set the National League record which still stands.
The 56 Game Hitting Streak by Joe DiMaggio in 1941- still stands 80 years later. That is an unbreakable record. With today's media no one reaching 40 games would be able to withstand all the media attention for one thing. In 1978 there was no 24 hour news cycle, no EPSN. Rose's hitting streak received a ton of attention but nothing compared to what it would be like in 2021 if someone made a similar run.
Rose had a great run- 44 games in a row getting a hit is incredible. You can't have a bad game. It's not like a year long record of say home runs where you can go without a home run for a while and still add them up. With a hit streak one day without a hit and it's all over.
Rose was 37 years old in 1978 [or a little older if his ex-wife is to be believed] and his best days were thought to be behind him. On June 14, 1978 he was mired in a slump- 6 hits in his last 44 at bats. That day he got 2 hits- and the streak was on . By the All- Star Game in mid -July it was up to 25 games. A few days later he broke the Cincinnati Reds record held by Vida Pinson- 28 games. Even at 28 games he was still just half way to DiMaggio's record but the streak was starting to get attention.
As time went on Rose was focused on the next streak in front of him. An important one was to top the 40 game hitting streak of Ty Cobb's. Rose knew his baseball history. He even said concerning Cobb that 'Cobb is next, when I get to 45 games you can talk DiMaggio.' Rose went past Cobb against Steve Carlton with a bunt single. Then he passed a 41 game streak held by George Sisler. Back in 1896 Wee Willie Keeler hit in 44 games straight. To tie Keeler- he had to get a hit off of Phil Niekro and his knuckleball. Rose hated going against Niekro because of that pitch but when Niekro mixed in a fastball- Rose got his hit and tied Keeler.
The streak would end the next game against the Atlanta Braves. It was a nationally televised game. He was hitless going into the 9th inning. 2 outs Rose came up against Braves relief pitcher Gene Garber. The count was 2 balls and 2 strikes- Rose expected Garber to challenge him with a fast ball- Garber threw a change up- Rose swung and missed. The streak was over at 44 games. After the game Rose bitched and moaned about how Garber pitched him. More than 30 years later Rose was still upset with Garber. The longest streak in the past 43 years since the Rose 44- has been Paul Molitor at 39 games in 1987 and Jimmy Rollins in 2005-06 at 38. A couple weeks after the streak ended the Reds came to Pittsburgh and I remember Rose getting a big ovation when he came up to bat for the first time. You never saw Rose getting much applause in Pittsburgh.
Note- When Joe DiMaggio's streak ended at 56 games in 1941- the day after his streak ended- he started another streak that lasted 16 games. When Joe was in the minor leagues- he had a hitting streak of 61 games. Incredible.