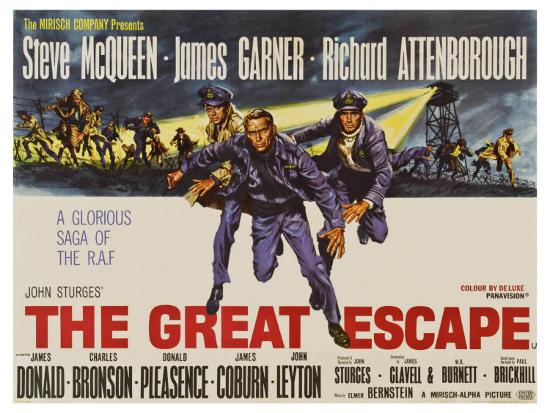 2021 Movie Draft- Round 5 Pick 8- Quinn Maddux selects- War – The Great Escape.
Film – The Great Escape Director – John Sturges Writers – Paul Brickhill (book), James Clavell (screenplay) Stars – Steve McQueen, James Garner, Richard Attenborough, Charles Bronson, James Coburn, Donald Pleasance and David McCallum Music – Elmer Bernstein Category – War Year – 1963 Release Date – 4 July 1963 Budget: $4,000,000 (estimated) Cumulative Worldwide Gross: $227,940 Runtime: 172 min Sound Mix: 4-Track Stereo (Westrex Recording System) | Mono Color: Color Aspect Ratio: 2.35: 1
https://www.imdb.com/title/tt0057115/?ref_=fn_al_tt_1
https://en.wikipedia.org/wiki/Stalag_Luft_III#Great_escape
I am sure that he will address it in the comments, but 99% of me believes that Hans put together this movie draft and included me just to see what I would write about this film. As with the previous films, I have my own little anecdote to go along with this film. I watch this film every year on 4 July. I started this many years ago; I guess it was subconscious because it was not until I put together the technical items above that I saw it was released on 4 July. Hans has known that I watch this film every year on 4 July for many years now.
I think I saw this film for the first time when I was 10. One of the network affiliates where I grew up would show films on Friday nights after the local news. I am not sure what drew me to this film, as there are not the scenes of dogfights or heroic gun battles in it. It is just a drama and suspense war film set in a Prisoner of War camp. Somehow, I think I managed to stay awake and watch the whole film. The whole story left me wanting to know more. I was fortunate to have a public library not far and I went in and looked for the book in the card catalogue. No fancy computer searches then. I managed to find that there was a book written by Paul Brickhill, and even better was that it was in the stacks! I picked it out and a couple of other books that looked neat and off to the counter we went.
One little aside – think of how much a donation would mean to the library or community college. I see where often someone dies and leaves their estate to Harvard or Yale or some such places that have endowments into the billions. A donation of even $10,000 to the local library or community college might give a few people a chance they may not have had. I am off my soapbox. Thank you for coming to my TED talk.
The film is nearly 3 hours long, and even at that length a lot of things had to be either left unexplained, combined into a condensed timeline, or left out completely (if you have read the book). To someone watching with a jaded eye they will say there is no way that some of this happened like it did. To some extent this is true. The author Paul Brickhill was shot down March 1943. He arrived at Stalag Luft III in April that same year. The Great Escape happened in March 1944. So, the viewer is watching a year long journey condensed into 3 hours.
The Sturges directing and Bernstein score make this film wholly enjoyable from all aspects of the viewing experience.
The events of the book are told straight up – the film was "Hollywoodized" with the Steve McQueen as Virgil Hilts character. McQueen only agreed to do the film if he could have the motorcycle chase scene and the big jump preformed by his friend and stuntman Bud Ekins. The motorcycle scenes were pure Hollywood.
While there were Americans involved with the Great Escape, they were transferred out several weeks before the escape day and did not participate in the event.
After so many Allied flight officers had been escaping from the POW camps, the Germans built Stalag Luft III in lower Silesia. In fact, the actual camp, Stalag Luft III, was in Zagan, Poland, and the remains of the camp can be found at the following map coordinates: 51.599036, 15.310030. As the German Kommandant states "we are putting all of our rotten apples in one basket.
The Allied officers had formed the X organization at previous camps, and everyone had a role in the organization. From counterintelligence, to forgery, to manufacturing, many things had to come together for something of this magnitude.
The organization was led by Roger (Richard Attenborough) and his idea was originally to dig 3 tunnels nicknamed Tom, Dick, and Harry, and have 250 men escape. Short History aside here – the POW camps were guarded by members of the Luftwaffe or the German Air Force, in contrast to the death camps and concentration camps that were guarded by the Schutzstaffel or SS. The officers and airmen of the Luftwaffe would generally have respect for their fellow airmen and officers even though they were the enemy.
On the other hand, the Geheime Staatspolizei (Secret State Police), abbreviated Gestapo, were generally a bunch of wannabees that could not have made it in the regular army and did not care how they treated anyone. This will come into play later.
There is a cat and mouse game between the Allied POWs and the Germans throughout the film. From singing songs to disguise the sounds of hammering, to trying to figure out how to hide 20 tons of dirt, how to keep having escape attempts so that the Germans do not assume the POWs are up to something else, the game is always afoot.
The Allied POWs plans are slowed when they realize the task at hand is larger than they have means for, so they shut down two of the three tunnels, Dick, and Harry, and concentrate on one, Tom. When it is nearly to completion, the tunnel trap is discovered by the German 'ferrets'.
Discouraged, but resigned to go on, they open one of the closed tunnels, Harry, and try again. This time they manage to complete the tunnel, but they end up just outside of the camp and a significant distance short of the forest. Because all their forged documents would have taken too long to recreate, theyproceeded with the escape. Seventy-six POWs managed to escape from the camp. Most were rounded up within days, but three of the escapees managed to make it completely to freedom – numbers 43 Per Bergsland, a Norwegian, 44 Jens M ü ller, a fellow Norwegian, and 18 Bram van der Stok, a Dutchman.
Per Bergsland was portrayed by Charles Bronson as Danny, and Jens M ü ller was portrayed by John Leyton as Willie. They managed to escape to a shipyard and found Swedish sailors who helped smuggle them out of the country. They managed to make it to London and were back in the war as flight instructors. Bram van der Stok was portrayed by James Coburn as Sedgwick. Van der Stok crossed most of occupied Europe, into France and crossed into Spain via the Pyrenees. Three months after escaping Stalag Luft III, he too was back in London.
As was alluded to earlier, the escapees that were captured were turned over to the Gestapo this time, not the Luftwaffe. This section from Wikipedia can summarize everything much more concisely than I can:
Following the escape, the Germans made an inventory of the camp and uncovered how extensive the operation had been. Four thousand bed boards had gone missing, as well as 90 complete double bunk beds, 635 mattresses, 192 bed covers, 161 pillowcases, 52 twenty-man tables, 10 single tables, 34 chairs, 76 benches, 1,212 bed bolsters, 1,370 beading battens, 1,219 knives, 478 spoons, 582 forks, 69 lamps, 246 water cans, 30 shovels, 300 m (1,000 ft) of electric wire, 180 m (600 ft) of rope, and 3,424 towels. 1,700 blankets had been used, along with more than 1,400 Klim cans. Electric cable had been stolen after being left unattended by German workers; because they had not reported the theft, they were executed by the Gestapo. Thereafter each bed was supplied with only nine bed boards, which were counted regularly by the guards.
Of 76 escapees, 73 were captured. Adolf Hitler initially wanted every recaptured officer to be shot. Hermann Göring, Field Marshal Keitel, Major-General Westhoff and Major-General Hans von Graevenitz (inspector in charge of war prisoners) pointed out to Hitler that a massacre might bring about reprisals to German pilots in Allied hands. Hitler agreed, but insisted "more than half" were to be shot, eventually ordering SS head Himmler to execute more than half of the escapees. Himmler passed the selection on to General Arthur Nebe, and fifty were executed singly or in pairs. Roger Bushell, the leader of the escape, was shot by Gestapo official Emil Schulz just outside Saarbrücken, Germany. Bob Nelson is said to have been spared by the Gestapo because they may have believed he was related to his namesake Admiral Nelson. His friend Dick Churchill was probably spared because of his surname, shared with the British Prime Minister.
Seventeen captured escapees were returned to Stalag Luft III.
Two captured escapees were sent to Colditz Castle, and four were sent to Sachsenhausen concentration camp, where one quipped "the only way out of here is up the chimney." They managed to tunnel out and escape three months later, although they were recaptured and returned; Two were subsequently sent to Oflag IV-C Colditz .
Here one can see how military officials think about what may happen to their own soldiers, versus those that act only out of anger. None of the Nazis were in any form good people, however, there was a sense of respect and following the code of conduct of military tradition.
One last aside on this a few years ago I showed this film to my cousin. He waited until the film was over and he looked at me incredulously and said – "they just shot 50 guys like that".
While many of the characters are composites of several people, the character played by Attenborough was based on Roger Bushell a Briton who may have won an Olympic Medal in skiing had he been given the chance.
Most of the actors that were in this film have passed away. One that has not and is still active is David McCallum – who plays Dr. Donald "Ducky" Mallard on the television show NCIS.
One of the funny things about the film is Donald Pleasance was a POW and he offered his thoughts to John Sturges and was immediately dismissed. It was not until someone else told Sturges that hey you might want to listen to him that Sturges acquiesced.
One of the funniest scenes in the film is the 4 July celebration in the film by the American actors, Steve McQueen, James Garner, and Jud Taylor. They are passing out the potato mash alcohol they have made to celebrate the 4 th , they all have been making pro American statements: "Down the British" etc. Taylor is standing next to McQueen and says "No taxation without representation" which was obviously not what McQueen was expecting because you see him turn to Taylor with a look of WHAT?
I know that no one will enjoy the film as much as I do, but this is a must see, not only from the history, but because it is a good film.