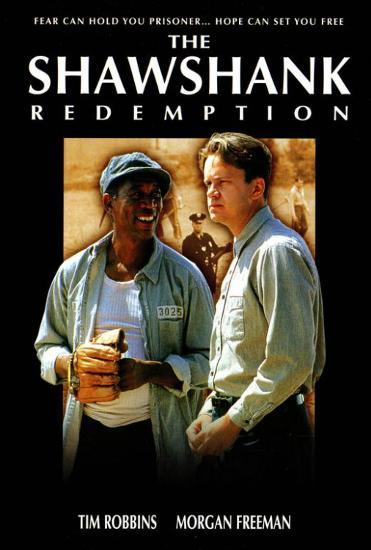 2021 Movie Draft: Round 1 Pick 8: Quinn Maddux selects- Drama- The Shawshank Redemption
Film – The Shawshank Redemption
Director – Frank Darabont
Writer – (Screenplay) Frank Darabont – (Short Story) Stephen King from Rita Hayworth and the Shawshank Redemption
Stars – Tim Robbins, Morgan Freeman, Bob Gunton, Clancy Brown, William Sadler, James Whitmore Category – Drama
https://www.imdb.com/title/tt0111161/?ref_=fn_al_tt_3
By now, I would say that everyone has seen the Shawshank Redemption. I would also say that just about everyone that hears a narration or wants a narration of things hears Morgan Freeman's voice.
As others have said previously this is just the film I am picking here. I watch this film once or twice a year, and even though I have the lines memorized, there is just something to seeing James Whitmore as Brooks and thinking about all of the interactions that I have had with older people that are lonely.
This will probably be my shortest review since this is a film that everyone is familiar with. Frank Darabont bought the rights for this from Stephen King for $1, likely the best dollar that he ever spent.
Thomas Newman's score for this film is perfect with the right sense for melancholy, hope, and ultimately redemption.
1994 was an amazing year for films. Quiz Show, Pulp Fiction, Forrest Gump, Four Weddings and a Funeral, and Shawshank were the nominees for best picture. The box office was just good film after good film. Original ideas were put on the big screen. Other big films that year were Speed, Bullets over Broadway, Wyatt Earp, Legends of the Fall, and Interview with the Vampire. Now days I do not think that some of these films have a chance to get made due to the Marvel and DC worlds.
Morgan Freeman was the best actor that year, but they gave the award to Tom Hanks for Forrest Gump. It is one of the funnier lines in Shawshank – Freeman's character is called 'Red' because it was written for a red headed Irish person which is obviously not Morgan Freeman. It was a closer call for John Toll (Legends of the Fall) vs Roger Deakins for cinematography, but this film is very well shot.
Anyway, Tim Robbins plays Andy Dufresne, a banker that is convicted of killing his wife and her lover; most do not know how to take Andy, as he is just someone that most people are not used to being around. Andy himself says that his wife said he was a difficult man to know.
The story takes place mostly in the Shawshank state prison, and it ultimately a story about the friendship between Andy and Red. The story spans from the 1940s to the 1960s and the subtlety of seeing all of the prisoners age is well done by the crew of the film.
There are a few mistakes in the film, but nothing that ruins the overall gist of the film.
I was originally slated to go see Stargate with some friends on a Friday night. There were seven of us in the college town where we were in school. We wanted to go to the late show not quite at midnight. When we got there, they only had 5 tickets left for Stargate. My roommate and I said we would go see Shawshank and we would catch up after the films were over. I had wanted to see the film, and had an idea of what I was going to see. By the time the credits rolled, I knew that I had seen one of the best films that I had ever encountered. My roommate and I walked out of the theater and neither he nor I spoke to one another. It was not until we got home and were among the rest of our housemates that we tried to describe what we watched. I ended up seeing the film again on Saturday and again on Sunday.
Fortunately for everyone TBS/TNT bought the rights to this box office flop and showed it so many times that word of mouth spread and now everyone knows this film. I guess that Ted Turner was good for something.
Probably the line that is best remembered from this film is a line said to Red from Andy and then repeated in Red's narration later in the film – Get busy living, or get busy dying.
If you have not seen the film, I highly recommend it. It will be time well spent.