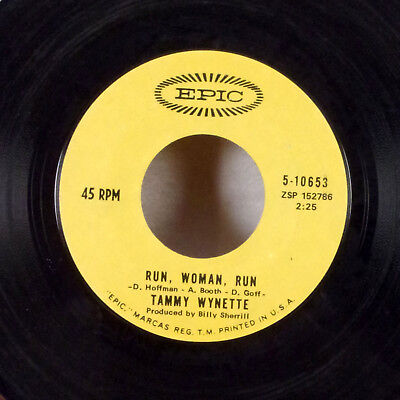 Every Billboard Hot 100 Single 1970: #534: "Run Woman Run"- Tammy Wynette. Final debuting single October 24, 1970.
Single: "Run Woman Run"- Tammy Wynette
Record Company- Epic
Genre: Country
Time: 2:25
Written by Ann Booth, Duke Goff and Dan Hoffman
B-side:" My Daddy's Doll"
Album- Tammy's Touch
Grade: C
Peaked at #92 2 weeks in Billboard Hot 100.
Virginia Wynette Pugh- the First Lady of Country Music – had 20 #1 country hit singles- on the Pop charts she put 11 into the Hot 100 with one Top 40 hit "Stand By Your Man" #19 in 1968. She was married from 1969-75 to country superstar George Jones.