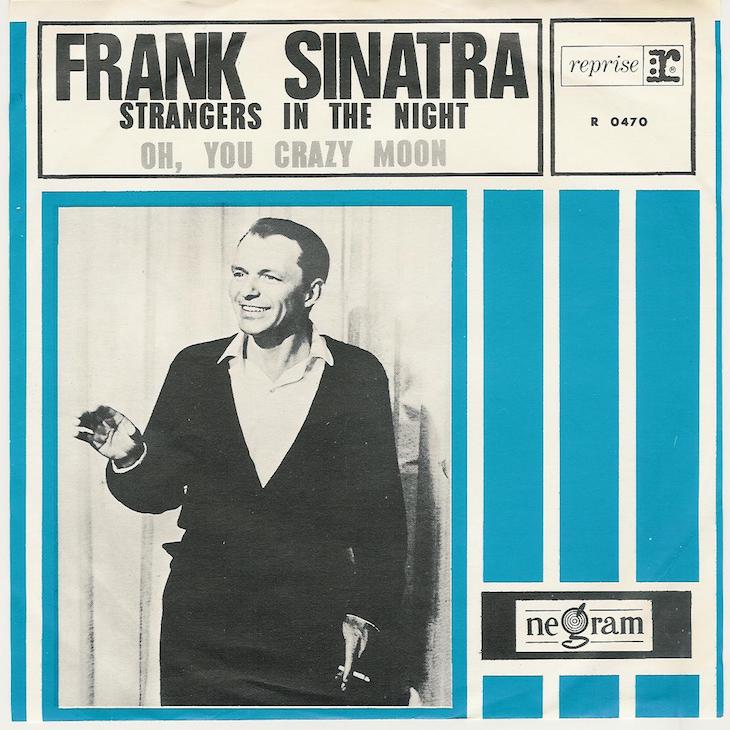 Billboard #1 Hits: #163: "Strangers In The Night"- Frank Sinatra. July 2, 1966. #1 for 1 week.
Single:" Strangers In The Night"- Frank Sinatra
Record Company- Reprise
Genre:Pop
Written by lyrics- Charles Singleton and Eddie Snyder-composer Bert Kaempfert
Time: 2:35
B-side:"Oh, You Crazy Moon"
Album-Strangers In The Night
Grade: B
Peaked at #1 1 week in the Billboard Hot 100.
June and early July 1966-a time for giants- The Rolling Stones and The Beatles went back to back at #1 each for two weeks and then Frank Sinatra hits #1 with "Strangers In The Night." "Strangers In The Night" would win Sinatra Grammy's for Best Male Vocal Performance and Record Of The Year. I am sure Frank was happy with the success he had- it was his first #1 in 11 years- but Sinatra despised the song, calling it at one time "a piece of shit" and "the worst fucking song that I have ever heard."He was not afraid to voice his disapproval of playing it live.
The song may not be as awful as Frank thought- but while it is one of his best known songs- it certainly isn't a song that would pop in my head when I think of Sinatra at his best- there were hundreds of songs that were better Sinatra songs. Frank didn't really care for "My Way" either. It is interesting that three Rat Packers- had what has to be considered surprise #1 hits- after their careers had peaked commercially- and all three songs were not first rate songs- "Everybody Loves Somebody"- Dean Martin, "Strangers In The Night"- Frank and then in the early 70's "Candyman" -Sammy Davis Jr.