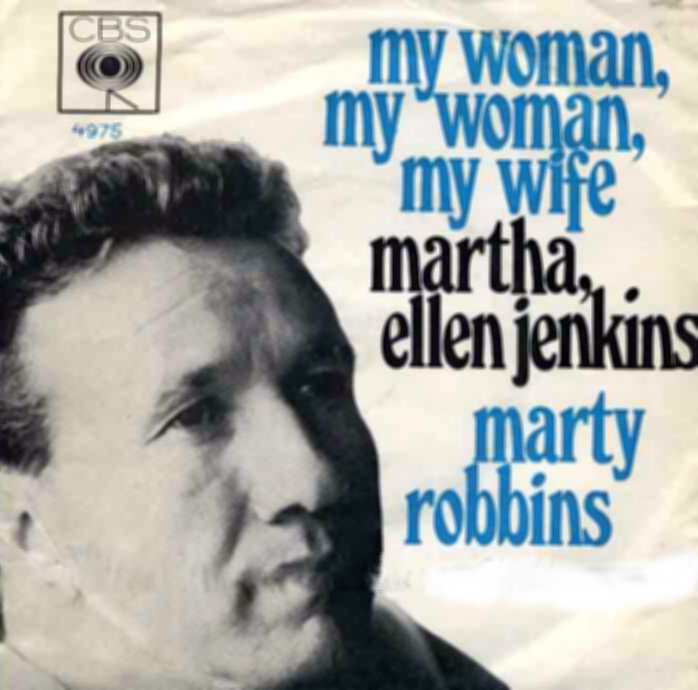 Every Hot 100 Billboard Single 1970: #125: " My Woman, My Woman, My Wife"- Marty Robbins. March 14, 1970.
Single: " My Woman, My Woman, My Wife"- Marty Robbins
Record Company- Columbia
Genre: Country
Written by Marty Robbins
Time: 3:29
B-side: " Martha Ellen Jenkins"
Album- My Woman, My Woman, My Wife
Grade: B+
Peaked at #42 8 weeks on the Billboard Hot 100.
A Grammy Award winner for Best Country Song- it was Marty Robbins 14th single to hit #1 on the Country Singles chart. It was produced by Bob Johnston famous for producing Bob Dylan, Johnny Cash, Leonard Cohen and Simon and Garfunkel.
On the Billboard Hot 100 pop chart over the years Robbins had 24 hits with 13 making the Top 40. Hit biggest pop hits came early in his career- capped by the classic "El Paso"#1 in 1959. Robbins charted 94 singles on the country chart. He died of a heart attack at the age of 57 in 1982. He was elected to the Country Music Hall of Fame in 1982. In addition to being a singer- songwriter of many hits he was also an actor and a stock car racing driver.