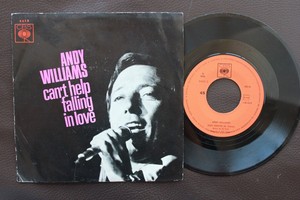 Every Billboard Hot 100 Single 1970: "Can't Help Falling In Love"- Andy Williams. February 28, 1970.
Single: "Can't Help Falling In Love"- Andy Williams
Record Company- Columbia
Genre: Pop
Written by Luigi Creatore, Hugo Peretti and George David Weiss
Time: 2:50
B-side: "Sweet Memories"
Album- Can't Help Falling In Love
Grade: B-
Peaked at #88 3 weeks on the Billboard Hot 100.
Born Howard Andrew Williams in Wall Lake, Iowa- Andy Williams was one of the most popular easy listening singers/ entertainers of that era. While Andy Williams version of the Elvis classic didn't do all that well in the US- it went all the way to #3 on the UK Singles Chart. He had 45 Hot 100 singles in his career with 28 making the Top 40 from 1956-76. His only #1 was "Butterfly" 1957. His signature song "Moon River" was oddly never a hit. At this point- 1970- he only had one more Top 40 hit left- "Love Story" #9 in 1971. Williams died in 2012 at the age of 84 from cancer.