ALBUMS-
THE BEATLES: HELP!: 1965: 5 STARS OUT OF 5 STARS:
TONY BENNETT: I'VE GOTTA BE ME: 1969: 2 1/2 STARS OUT OF 5 STARS: At this point Bennett's career was in a tailspin- he would eventually pull out of it and at 92 is still active today. A competent album- it is Tony singing but Sammy Jr outdoes him with the title track. Not even close.
TINY TIM: FOR ALL MY LITTLE FRIENDS: 1969: 2 1/2 STARS OUT OF 5 STARS: Tiny Tim's second album- was a flop so he decided to do a children's album- its Tim and his ukulele for the most part- and its not a bad listen but kind of runs its course by the middle of side 2. I always found Tiny Tim likeable.
BOBBY GOLDSBORO: TODAY!: 1969: 2 STARS OUT OF 5 STARS: Today I am trying to keep ahead of my self in my quest to listen to an album from 1969 a day- on average- I thought Bobby Goldsboro certainly had to have a release in 1969- and he did- so I thought I'd listen to it- it is only a little more than a half hour of pain. Actually while it isn't any good it wasn't awful. Lightweight for sure and the lead single which was a flop- Glad She's A Woman which I detest is the worst song on the album.
NEIL DIAMOND: BROTHER LOVE'S TRAVELING SALVATION SHOW: 1969:  3 1/2 STARS OUT OF 5 STARS: This album later added to a later pressing "Sweet Caroline" and changed the name of the album to Sweet Caroline. "Sweet Caroline" is my favorite Diamond song- "Brother Love's Traveling Salvation Show" "Glory Road" and "Memphis Streets" I like the rest of the album is filler.
RAY CHARLES:GENIUS & SOUL: DISC 3: 5 STARS OUT OF 5 STARS: Still in the heart of Ray Charles great years here on disc 3.
GUY CLARK: MY FAVORITE PICTURE OF YOU: 2013: 4 1/2 STARS OUT OF 5 STARS: The final Guy Clark album before his death in 2016. It won him a Grammy for Best Folk album and did well on the Billboard Top 200 album charts at #62 which was sadly the only Top 200 appearance he ever made. Guy Clark and his best friend Townes Van Zandt deserved to be heard by bigger audiences. Great songwriters!
BRUCE HORNSBY AND THE RANGE: THE WAY IT IS: 1986: 4 1/2 STARS OUT OF 5 STARS: I didn't know or remember- that Huey Lewis produced this album. This was Bruce Hornsby's most successful album- it ended up winning him the Grammy for Best New Artist. The title track was a#1 hit,  "Mandolin Rain" and "Every Little Kiss" were hits. Good stuff.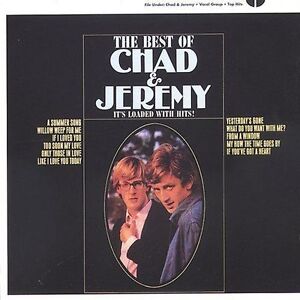 CHAD AND JEREMY: GREATEST HITS: 1966: 4 STARS OUT OF 5 STARS: This duo didn't have much success in their native England -only 1 minor hit- but in the US they put 7 singles into the Top 40 during the British Invasion. They biggest and most remembered hit "A Summer Song." These fellas weren't a rock band though- more folk influenced. A good $1 album pick up recently.