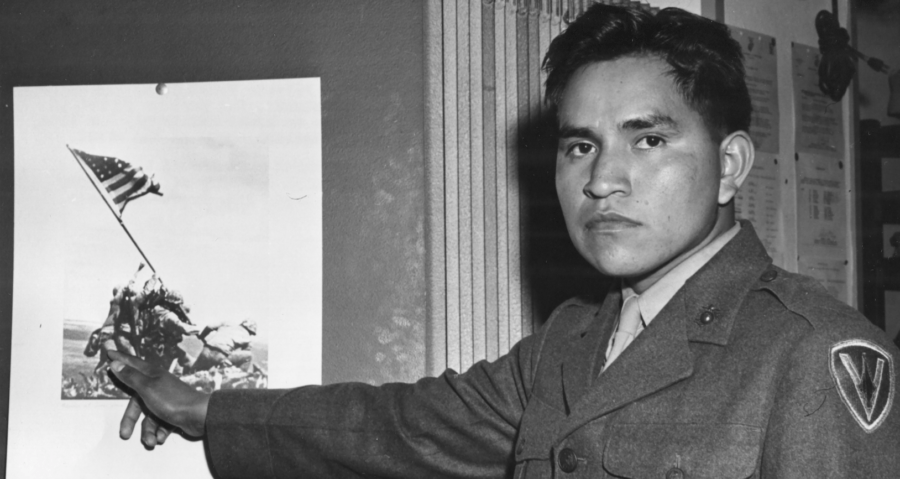 History in Music- "The Ballad Of Ira Hayes"- Johnny Cash. The song was written by Peter La Farge a folksinger- Johnny Cash's version was on his outstanding concept album about Native Americans called Bitter Tears. Released  as a single "The Ballad of Ira Hayes" went to #3 on the country chart. I have included both Johnny Cash's version here and the original by La Farge. Both are worth hearing. The song has been covered over the years by many other artists.
Ira Hayes was one of the six U.S. Marines who became famous in the iconic photograph  for raising the U.S. flag on Mt. Suribachi during the Battle of Iwo Jima in February 1945.  Ira was a Pima Indian from Arizona who joined the Marine Corps Reserve in August 1942. After raising the flag at Iwo Jima- Hayes and the other two surviving men who were with him raising the flag were brought back to the United States to help sell war bonds. In December 1945 he was honorably discharged from the Marine Corp.
After not being able to hold a steady job for a long period of time Ira became an alcoholic and was arrested 52 times for public intoxication. He would get several jobs but was unable to keep them. He was sober when they dedicated the Marine Corp War Memorial in 1954 and was called a hero by President Eisenhower. Hayes wasn't comfortable in the spotlight. The 2006 film Flags Of Our Father suggests that Ira was suffering from PTSD. On January 24, 1955 Ira Hayes was found dead near an abandoned adobe hut near where he was living in Sacaton, Arizona. Hayes was 32 years old. He is buried at Arlington National Cemetery in Arlington, Virginia. The book and movie "Flags Of Our Father" which tells the story of the men who raised the flag at Iwo Jima is well worht checking out.