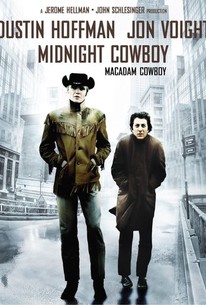 On Sunday May 25th one of the most celebrated movies of 1969 opened- Midnight Cowboy. The movie- a drama starring Jon Voight and Dustin Hoffman was based on a 1965 novel by James Leo Herlihy of the same name. The movie was directed by John Schlesinger. The movie is set in New York City with Voight playing a prostitute named Joe Buck [ the sportscaster Joe Buck was born earlier in May 1969} and Hoffman as an ailing con man Enrico "Ratso" Rizzo. Midnight Cowboy which was rated X- would go on to win the Oscar for Best Picture- the only X rated movie to ever do so. The movie also won for Best Director and Best Adapted Screenplay. The movie with a budget of 3.2 million endd up making 44.8 million and was the second biggest money making movie of 1969 behind Butch Cassidy and The Sundance Kid.
Other movie openings in the moth of May 1969-
May 7- "Where's It At"- a drama starring David Janssen, Rosemary Forsyth, Robert Drivas, Brenda Vaccaro and that old hockey puck Don Rickles.
May 7 "Sinful Davey"- An adventure/ crime/comedy film directed by John Huston and starring John Hurt and Pamela Franklin.
May 10 "MacKenna's Gold" A western with an all-star cast- Gregory Peck, Omar Sharif, Telly Savalas, Ted Cassidy and Julie Newmar. Music- Quincy Jones.
May 14 "Nightmare In Wax"- A thriller starring Cameron Mitchell and Anne Helm.
May 15 "Midas Run"- A comedy starring Richard Crenna, Anne Heywood and the great Fred Astaire.
May 22 "Winning"- a racing movie with Paul Newman, Joanne Woodward and Robert Wagner.
May 27 "Popi"- A comedy/drama starring Alan Arkin and Rita Moreno.
May 27 "The Grasshopper"- Drama starring Jacqueline Bisset, Jim Brown and Joseph Cotten.
May 28 "The April Fools"- Romantic comedy starring Jack Lemmon and Catherine Deneuve.
May 29 ""Che!"- Biographical movie about Che Guevara with Omar Sharif.
May 29 " Once Upon A Time In The West" Spaghetti western starring Hank Fonda, Charles Bronson, Claudia Cardinale and Jason Robards.