Every Entry Into The Hot 100 Singles Chart- 1969- Part 8. I don't think I had heard any of these singles until listening to them today.
22. "Home Cookin""- Junior Walker & The All Stars: Soul: R&B, Soul: Song written by-Eddie Willis, Henry Cosby, Melvin Moy. B-side "Mutiny." From 1965-72 Junior Walker &The All-Stars placed 21 singles into the Billboard Hot 100- with a dozen of them making the Top 40.  Two singles reached as high at #4 -1965's "Shotgun" and 1969's -"What Does It Take [To Win Your Love} Junior Walker was born Autry Mixon Jr in Arkansas but grew up in South Bend, Indiana. The record label Walker and The All-Stars music was issued under was Soul- but it was really under the umbrella of Motown. "Home Cookin' was also the name of the album the single appeared on and it was a very successful album for Junior Walker  & The All-Stars-with three Top 40 singles- and "Home Cookin'" just missing at #42. The fourth single from the album "What Does It Take" would be the biggest of the hits- more on how that became a hit later in the year. Walker got a late career boost when he appeared on Foreigner's "Urgent" single in 1981- playing the sax solo which was the high light of that single. He died at the age of 64 in 1995. "Home Cookin'" has that Junior Walker and The All Stars sound down- Grade: B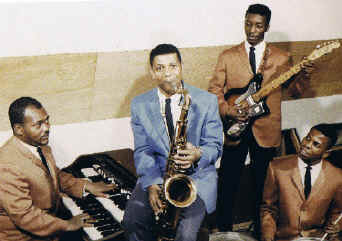 23. "Kum Ba Yah"- Tommy Leonetti. Decca. Pop. "Kum Ba Ya" is an old spiritual which was first recorded back in the 1920's- it made a comeback in the 1050's with the folk music movement.  The only chart success it had though was this single released by Tommy Leonetti who was a pop singer/ songwriter and sometimes actor from New Jersey. Leonetti had a couple hits in the mid-50's-his only Top 40 hit was 1956's "Free" which peaked at #23. In total he placed 3 singles in the Top 100. "Kum Ba Yah" peaked at #54. The b-side of the single was "Cheatin' On Me." Tommy Leonetti had his most success down under in Australia where in the late 60's he had a talk show for a couple of years and also a hit single "Let  Take A Walk." While I didn't know who he was I remember his face- from Gomer Pyle U.S.M.C. where he played Corporal Nick Cuccinelli for a season. Leonetti died young- at the age of 50 in 1979 of cancer. Grade: C
24."This Old Heart Of Mine [Is Weak For You}- Tammi Terrell. Motown. Soul. The song was written by the great Motown songwriting team of Holland-Dozier-Holland plus  Sylvia Moy.  B-side: "Just Too Much Hope For," "This Old Heart Of Mine" had first been a big hit for The Isley Brothers in 1966- #12 although it had first been written with The Supremes in mind.  Tammi Terrell's version peaked at #67. Tammy Terrell is remembered most for her duets with the great Marvin Gaye which were big hits in the late 1960's- "If I Could Build My Whole World Around You" . "You're All I Need To Get By", Ain't Nothing Like The Real Thing" and several others. During her all too brief career/ life Tammy Terrell had 15 Top 100 singles- 8 of them being duets with Marvin. Her biggest solo hit was "Your Precious Love" #5.Tammy Terrell had been briefly married to heavyweight boxing contender Ernie Terrell- who fought and lost to Muhammad Ali. Tammy Terrell died at the age of 24 of a brain tumor on March 16, 1970. Several of Marin gay's biographers have suggested that he never got over her death- that it led to his problems with depression and drug abuse- but may have also led to his greatest album the introspective What's Going On. : Grade: B-.