Every Entry Into The Billboard Hot 100 Singles Chart- 1969- Part 6. All three of the singles today entered the charts during the week of January 18, 1969. I had previously heard all three of them and all of them eventually made their way into the Top 40.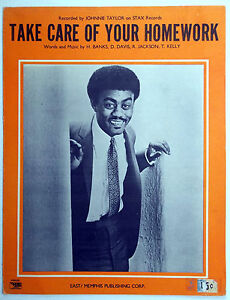 16. "Take Care Of Your Homework"- Johnnie Taylor. Stax. Soul. Peaked at #20 on the Hot 100.  B-side " Hold On This Time." "Take Care Of Your Homework" was written by Stax staffers Homer Banks, Don Davis, Raymond Jackson and T. Kelly. During his career-spent mostly at Memphis's Stax record label Johnnie Taylor placed 21 singles into the Hot 100 with 11 of them hitting the Top 40. His biggest hit would be after he left Stax in the mid 70's a #1 hit "Disco Lady." Johnnie Taylor died in 2000 at the age of 66.   Grade: B+
17. "I Got A Line On You" -Spirit. Ode. Rock. Peaked at # 25 on the Billboard Hot 100 B-side-"She Smiles" Written by Randy California. Spirit would have 4 Hot 100 singles this was the only one to reach the Top 40. Spirit's lead singer was Jay Ferguson who would later have some solo success with a Top 10 hit in 1977 "Thunder Island." The make up of the group was interesting- Randy California was the guitarist- he wrote this song- also in the band was California's step-father Ed Cassidy on drums- Cassidy was 20 to 25 years older than the other members of the band. Spirit would be invited to open for Jimi Hendrix at Woodstock but ended up declining because the bands manager/ producer Lou Adler opposed it because the band was promoting their latest album at the time. Oops. Grade: A-
18. "There'll Come A Time "- Betty Everett. Uni. Soul. Peaked at # 26 on the Billboard Hot 100. B- side "Take Me." "There'll Come A Time" was written by Eugene Record and Floyd Smith. Record is best remembered as the lead singer for The Chi-Lites. Betty Everett who grew up in Chicago- placed 10 singles in the Hot 100 during her career with 3 of them making the Top 40. Her biggest hit was "The Shoop Shoop Song" #6 in 1964, she also had a hit with a duet with Jerry Butler of The Impressions in 1964- "Let It Be Me" which went to #5. Bette Everett died in 2001 at the age of 61.  Grade: B.