Hans Remembers- Sunday March 23, 1969- fifty years ago today.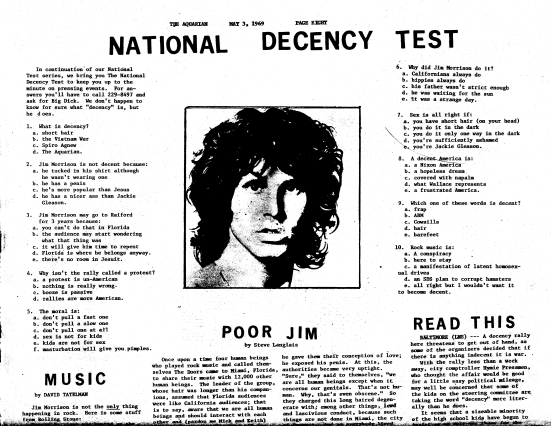 The decent folks in Miami- yes there were 30,000 of them and they gathered at the Orange Bowl Stadium for a "Rally For Decency" which were organized by teenagers. Jackie Gleason, Anita Bryant and wild and crazy pop group The Lettermen- showed up to rally against the conduct by recent conduct by Jim Morrison of The Doors when he visited their fair city. Where was Pat Boone? Where was Milhous Nixon-certainly he was all for decency.  Why was Jackie Gleason there?
On this date the bottom half of Apollo 9's lunar module "Spider" which was left behind before Apollo 9 returned to earth earlier in the moth- re-entered the Earth's atmosphere and burned up over the Indian Ocean. Interestingly the top half of the lunar module would not return until 12 years later- in 1981. A big part of Apollo 9's mission was to test the lunar module for use in going to the Moon in the summer.
On this date a man named Charles Manson made a visit to 10050 Cielo Drive a luxury home in Benedict Canyon, north of Beverley Hills looking for record producer Terry Melcher [the son of Doris Day} Manson was trying to get a record recording contract. The house was now being rented by film director Roman Polanski and his wife the actress Sharon Tate. Manson would later direct his followers to this address late in the summer of 1969- not knowing that Melcher had moved on. Imagine how history would have been changed if– if Manson had been more talented and had landed a record contract, or if Fidel Castro had been a better baseball pitcher and had signed a contract with a major league baseball team- or if an artist named Adolf Hitler had been more talented at his art?