Hans- Mount Rushmore of All-Time Chicago White Sox. I have been thinking this team over all week. I put it as the last AL Central team to cover simply because I was having a problem picking the four from this team. The White Sox played from 1910 to 1990 in Comiskey Park. The story goes that when they were designing that ballpark the architect asked for the input of Ed Walsh. Ed Walsh was the Sox star pitcher. What kind of recommendations do you think Walsh- a pitcher had? A ballpark that would end up making Comiskey Park a 'pitcher's park." This hurt the White Sox during that period of time as far as having big power hitters. In fact the only true power hitters in club history came after the Sox moved to new Comiskey Park in 1991- Frank Thomas and Paul Konerko. Until those fellas came along the All-Time White Sox home run leader was Harold Baines with only 221 home runs.
FRANK THOMAS- The Big Hurt an easy choice to be the greatest White Sox. #2 Eddie Collins would have to rank as a greatest player historically but he did spend some of his great years with the Philadelphia Athletics-whereas Thomas spent 16 of his 19 seasons with the White Sox. In his first seven full seasons Thomas was a monster offensively-in his 20's he won 2 AL MVP Awards, 2 third place finishes and was in the Top 8 in the voting all seven of those seasons. His decline began at age 30- not that he didn't have anymore good years after that but there was a drop off especially in batting average. If you look at guys built like Thomas- big men- that seems to be a common trend- they don't age well. Thomas ended up with 521 career home runs and a .301 career battling average and was elected to the Baseball Hall of Fame on his first ballot.
2. EDDIE COLLINS- Cocky Collins was already an established star when he came to the White Sox from the Athletics at the age of 28 in 1915. He was sold to the Sox for $50,000 in one of Connie Mack's sell offs. I'd rank him the third greatest second baseman ever behind Joe Morgan and Rogers Hornsby. He had a poor 1919 World Series hitting .226 but he of course wasn't involved in the throwing of the World Series like 8 of his teammates. Played in four decades-1906-1930- 25 seasons 13 with the Athletics-and 12 with the White Sox although he ended up playing 500 + more games with the Sox. 3315 career hits 741 stolen bases, He led the league in steals at the ages of 36 and 37. .333 lifetime hitter.
3. LUKE APPLING- A lot of fans will remember him for hitting a home run off of Warren Spahn in an Old Timers Game  in 1982 at RFK Stadium in 1983 at the age of 75. Appling was a Hall of Fame shortstop who spent his entire career with the White Sox- winning two battling titles and making 7 All- Star games. A .310 lifetime hitter, didn't have much power- only 45 home runs in his 20 MLB seasons. Elected to the HOF in 1964.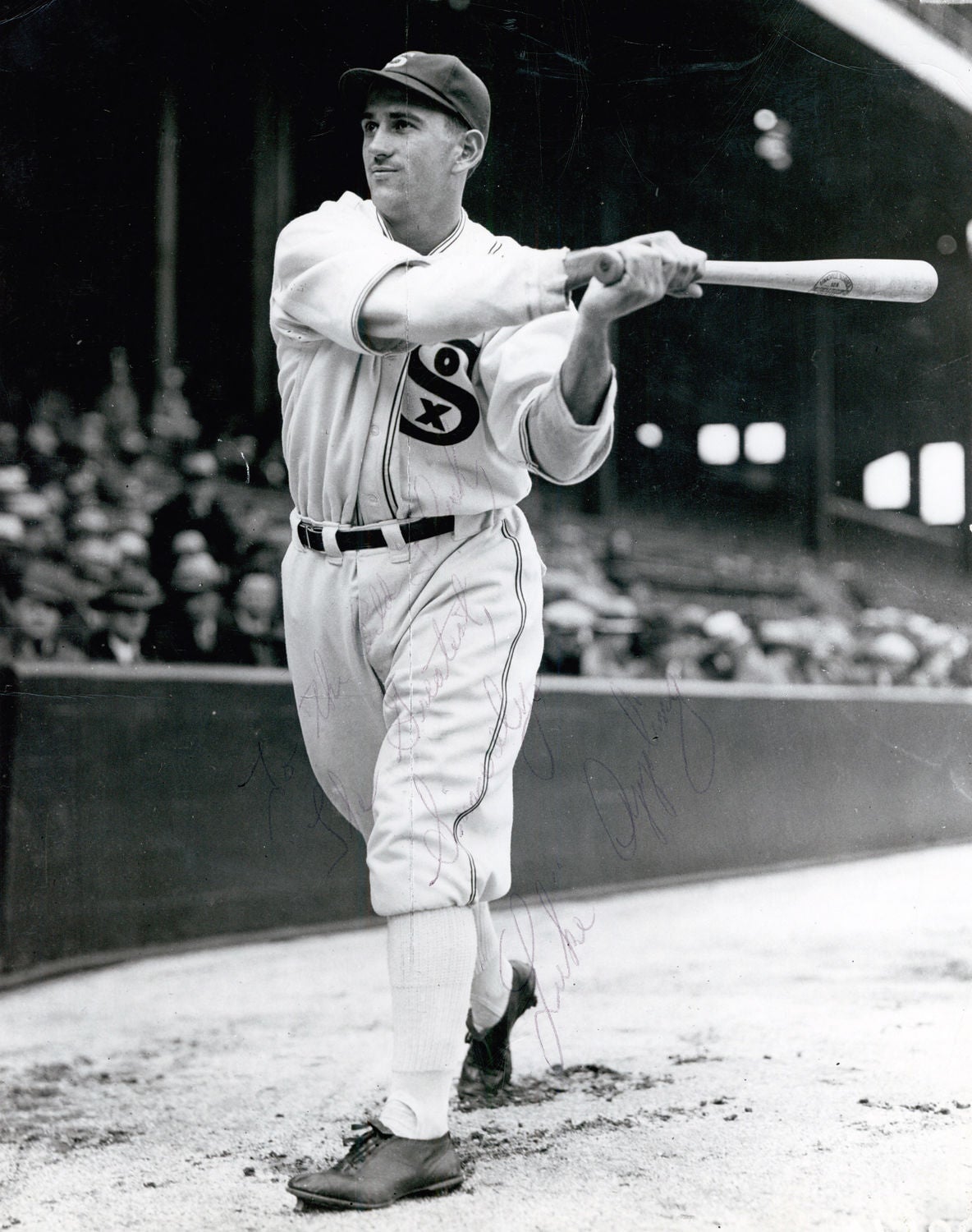 4. ED WALSH-Walsh had seven big big seasons as a pitcher before encountering arm problems at the age of 31. He pitched in the dead ball era- but still- his all time record for career low ERA 1.82 is very impressive. Won 40 games in 1908. In 1910 he went 18-20 with an ERA of 1.27 which led the league. How did he lose 20 games with an ERA like that?  His son also named Ed would later pitch for the White Sox. Little Ed would die at the age of 32 from a heart ailment while playing in the Pacific Coast League.