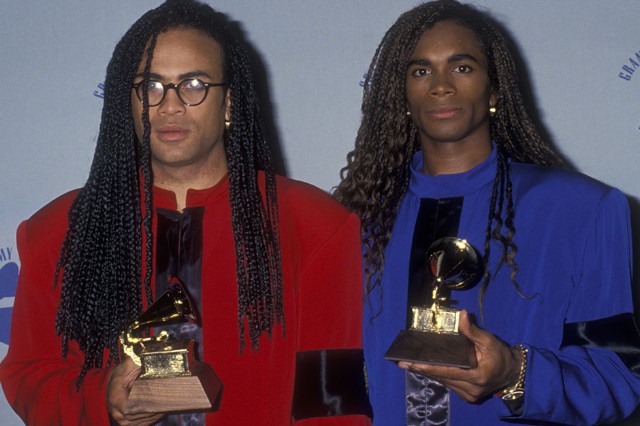 Hans Worst Hits of the 80's- the fraud that was the career of Milli Vanilli. Thirty years later what surprises me the most is how long they fooled everyone. The fellas who were billed as Milli Vanilli- two guys from Munich, Germany- Fab Morvan and Rob Pilatus actually didn't even sing the songs- they were lip-syncing the songs when they appeared in concert. They had a slew of big hits for a brief period of time- Girl You Know It's True #2, Baby, Don't Forget My Number #1, Blame It On The Rain #1, Girl I'm Gonna Miss You #1, All Or Nothing #4- before they were exposed. Even if they had been the singers – I would have had the job of selecting one of those songs- as a Worst Hit- because they were all garbage. They actually won the Grammy for Best New Artist- I have never cared one bit about The Grammy's by the way since A Taste Of Honey beat out Elvis Costello as Best New Artist back in the late 70's- its a joke.
How did this fraud go on as long as it did without anyone breaking their silence? People talk. The first sign that something was amiss was during a concert when these wankers were out there dancing and singing and the recording began to skip. "Girl You Know It's Girl You Know It's Girl You Know It's…." Oops! Sadly, the audience didn't seem to care.
In November 1990 they finally came clean and admitted that they weren't the singers on the albums they 'sang ' on. They returned their Grammy award. The gig was up. There were lawsuits and in a settlement 10 million record buyers could get a refund on their purchases of Milli Vanilli. I wonder how many actually did?
Milli Vanilli would try a comeback as 'real singers" but of course nothing much was going to come of this as far as success. On the eve of a promotional tour of their new album in 1998 Rob Pilatus died of what was ruled an accidental alcohol, prescription drug overdose bringing a sad ending to a pathetic story.
Note- who did Milli Vanilli beat out for the Grammy in 1990 for Best New Artist- Neneh Cherry, Indigo Girls, Tone Loc and Soul II Soul.
As far as their worst hit? Take your choice- any will do- below is Girl You Know Its True.