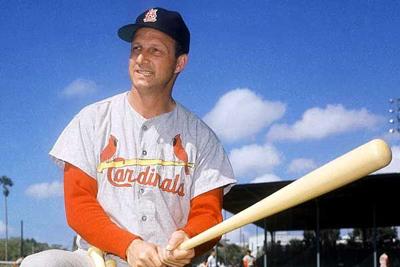 It was fifty years ago today- Tuesday January 21, 1969- the Baseball Hall of Fame vote for 1969 was announced and there would be two new inductees from the Baseball Writers vote- Stan "The Man" Musial received 93.2% of the vote and was elected in his first year of eligibility and Roy "Campy" Campanella with 79.4 % joined him. It was Campanella's 5th year on the ballot. 75% of the vote was needed to get in. No one else came close- 3rd place was Lou Boudreau at 64.1%.
Stan The Man Musial was a lifetime .331 hitter who played his entire 22 year career with the St. Louis Cardinals. He won seven National League batting titles. He was as consistent of a baseball player who ever lived. Year in and year out he just performed and being one of the most liked players/people in the games history never caused controversy. He was an outfielder-first baseman. How consistent of a player was he? He had 3630 hits in his career- 1815 were while playing at home and 1815 in away games. Musial was born in the small steel town of Donora, Pennsylvania. Ken Griffey Jr. one of the all time greats would be born on the same date as Stan The Man-November 21–later in this year 1969. Imagine the great Ken Griffey Jr. one of the greatest players I have ever seen- wasn't even the greatest player born in tiny Donora, Pennsylvania on a November 21st.  Stan Musial one of the most beloved players in baseball history died at the age of 92 in 2013.
Roy Campanella played his entire career with the Brooklyn Dodgers and is considered one of the greatest catchers of all time. His major league career didn't start until 1948 at the age of 26 due to the segregation in baseball. His career was cut short near the end by a tragic car accident in 1958 that left him paralyzed from the shoulders down for the rest of his life. Roy Campanella won the NL MVP Award three times- every other year- 1951, 1953 and 1955. He was an 8 time all- star and like Stan Musial a very popular player on the Dodgers. Campy died at the age of 71 in 1993. In 1999 The Sporting News [once called The Bible of Baseball} named Roy Campanella the 50th greatest player in baseball history. Why did it take him five years to make the Hall of Fame? The only reason I can think of is the shortness of his career. Through no fault of his own- he only played ten seasons.
I have always been very interested in the Baseball Hall of Fame and the voting- tomorrow they will announce the new class- below is the voting in 1969.
https://www.baseball-reference.com/awards/hof_1969.shtml