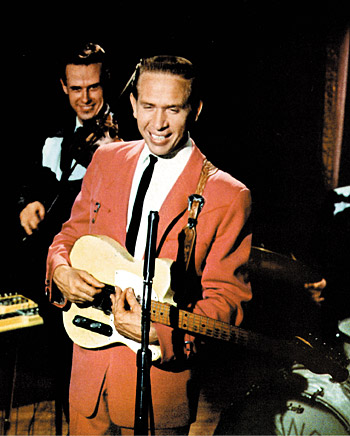 In the countdown of My 33 Favorite Recording Artists- up to #29- Buck Owens and The Buckaroos . Buck Owens was #1 on my list when I was ten. The first song I can recall loving was when I was five- Buck Owens- I've Got A Tiger By The Tail- I thought the song was about a tiger. I couldn't get enough of the song or Buck Owens albums my father owned. My father wasn't into rock and roll- he was into classic country and in the mid 60's that was Johnny Cash, Merle Haggard, Buck Owens, George Jones, old Hank Williams- the great classic stuff. Those were my early life favorites.
The first three concerts I ever attended were Buck Owens at The Jamboree In Wheeling, West Virginia in the late 60's. I clearly remember standing out on the sidewalk with my grandparents, parents and aunt and uncle freezing to death waiting to get inside- it was well worth it. I was such a Buck Owens fan that my grandfather never called me by my name he always called me Buck.
Buck Owens was the pioneer of The Bakersfield Sounds- also described as the 'freight train sound." County music in Nashville in the 60s were adding strings and orchestra and going for slick production- Owens and his "Bakersfield Sound" was a reaction against that. Merle Haggard was also from that school. Owens and Haggard were the most successful artists from Bakersfield-[and both were married for a time- not the same time of course to the same woman.} Artists they influenced-were also successful- Dwight Yoacam, Tommy Collins, Wynn Stewart among others.
A key to Buck's sound was his right hand man- Don Rich one of The Buckaroos. Rich was his guitarist and vocalists- Buck and Don singing together had a great sound. The 1960's were Buck's decade- he at one point had from 1963- 1967 14 straight singles go to #1 on the country singles chart. In the 1960's he had 19 overall #1's. In the first few years of the 70's the #1's weren't coming as quickly but everything was going in the Top 10. At this point he was along with the late Roy Clark who passed yesterday- host of Hee-Haw. As a Buck fan I always thought doing that show was a mistake. So many people now identify both Buck and Roy for Hee- Haw first and not the careers they had.
The day the music died for Buck Owens- and he later admitted the joy of doing music left him on  July 17, 1974 when his right hand man Don Rich was killed in a motorcycle accident. It wasn't until over a decade later when a new artist who adopted The Bakersfield Sound and was clearly inspired by Buck- rejuvenated Buck's career- Dwight Yoacam. The duet they did together- The Streets Of Bakersfield- an old Buck song from the 1960s- would become the first #1 Buck had in 16 years.
As far as Buck Owens and The Buckaroo albums to recommend -if the album was made in the 1960s to early 1970's I would recommend it to you. But if you have no Buck and before digging any deeper want the best of Buck- you cannot go wrong with the 3 disc- The Buck Owens Collection 1959-90 which came out in the early 90's. I hadn't really listened to Buck in years and one day I am in a record store and this box was staring me in the face. There was no 'do I get this' decision- it was a 'must have.' Since then most of his individual albums have been re-released and I've gotten them- but for the casual fan- the box set is full of riches. 62 songs in total. 5 stars raves Hans Postcard.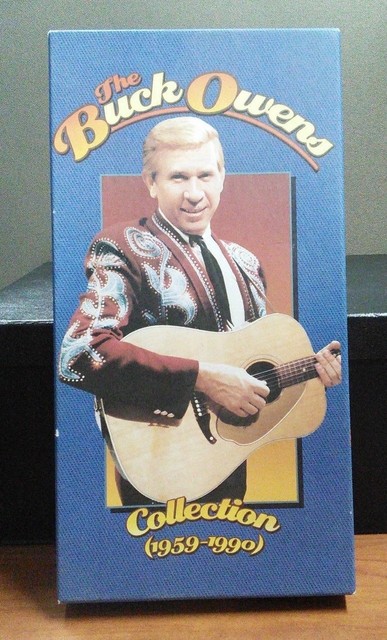 Individual songs from Buck almost too many to mention
I'VE GOT A TIGER BY THE TAIL-  the first song by anyone that I loved- it was also Buck's only Top 40 pop hit peaking at #25. This is The Bakersfield Sound!
ACT NATURALLY- first a hit for Buck then those boys from Liverpool covered it.
LOVE'S GONNA LIVE HERE
MY HEART SKIPS A BEAT
THE STREETS OF BAKERSFIELD
I DON'T CARE JUST AS LONG AS YOU LOVE ME
BUCKAROO  an instrumental which went to #1
WAITIN' IN YOUR WELFARE LINE
THINK OF ME
SAM'S PLACE
JOHNNY B. GOODE
I WOULDN'T LIVE IN NEW YORK CITY
UNDER YOUR SPELL AGAIN
ABOVE AND BEYOND
WHERE DOES THE GOOD TIMES GO
ONLY YOU CAN BREAK MY HEART
CRYIN' TIME