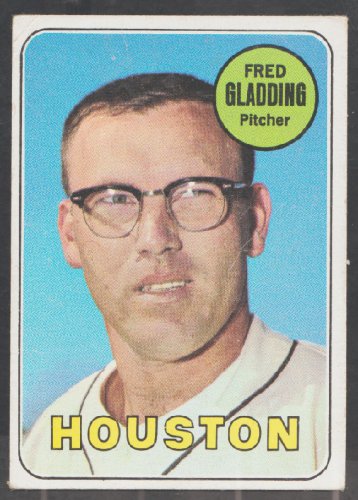 7 points on Fred Gladding
Fred Gladding was a pitcher. He wouldn't have gotten too far for his hitting. Of all the players in major league history who have a career batting average above .000- Gladding's is the lowest- his career hitting stats-1 for 63 for a .016 career batting average.
Fred Gladding was 6'1″ 220 hit left handed and threw right handed. He played for the Detroit Tigers from 1961-67 and the Houston Astros from 1968-73. Kind of curious about the above baseball card- it is clearly Gladding in a Tiger uniform. Didn't they get a picture of him in 1968 with the Astros?
Career numbers 48 wins and 34 losses with a 3.13 ERA. He pitched in 450 games- started only 1 game. A career relief pitcher. He pitched 601 innings and had 394 strikeouts.  He was 25 when he made his first appearance with Detroit and 36 when he made his final appearance with Houston. He was released after the 1973 season.
In 1969 the first year that saves were recognized as an official stat- Gladding led the National League in saves with 29. He would have 109 saves in his career.
He was traded for a future Hall of Famer. The Astros traded an aging Eddie Mathews to the Detroit Tigers for a player to be named later. In the off-season Gladding was the player to be named later.
With the Tigers Gladding's record was 26-11 his .703 winning percentage is the highest in Tigers history for a pitcher appearing in at least 200 games.
After his career ended he was a pitching coach for the Tigers under manager Ralph "The Major" Houk- for three seasons starting in 1976. Gladding passed away in 2015 at the age of 78.