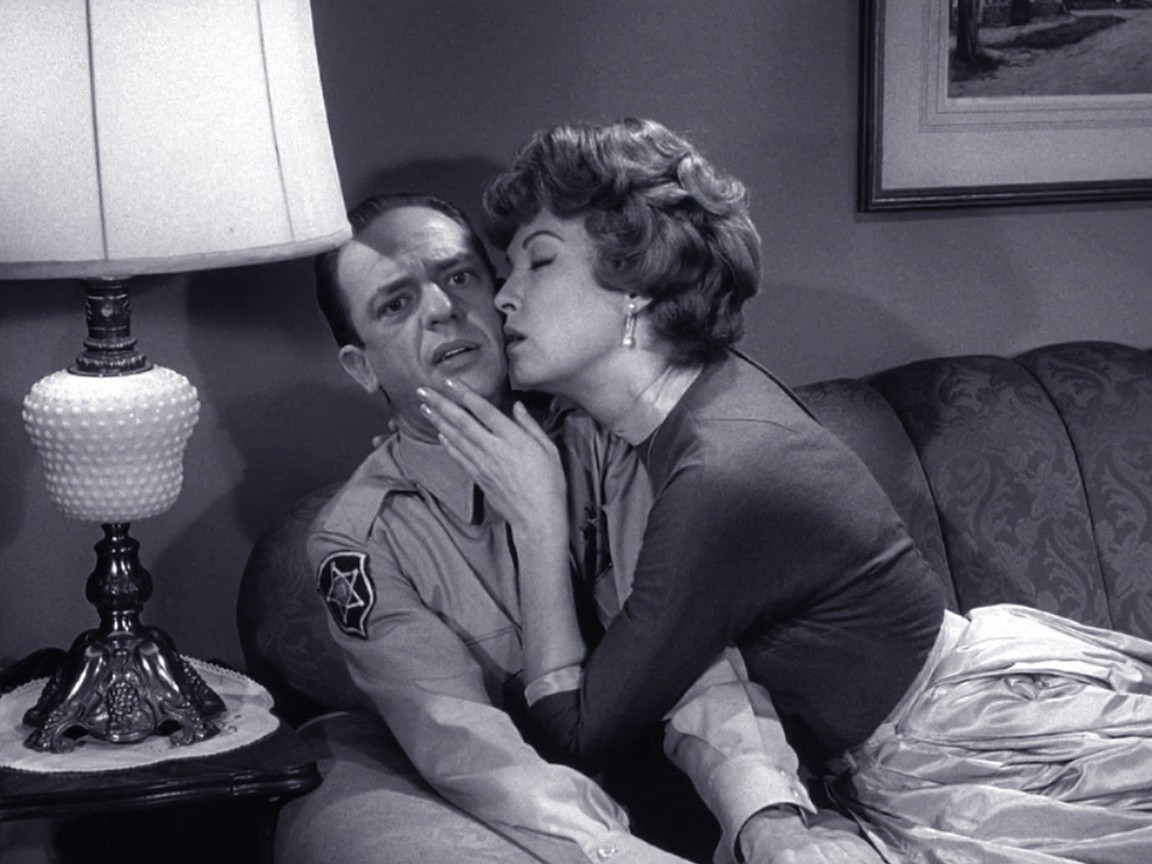 The Andy Griffith Show: Season 2/Episode 5: Barney On The Rebound: October 30, 1961. 5 STARS OUT OF 5 STARS.
Barney was absent from the previous episode- but he's back and is the center of this one. It opens out on the sidewalk- Thelma Lou gives Barney a kiss on the cheek and Barney gets all embarrassed that people will see them. When they part- Thelma Lou is going shopping- a car pulls up and parks in the sheriff's spot. Barney's head it turned -by the attractive woman who is driving. They strike up a conversation and Barney as usual makes a fool out of himself. The woman who gives her name as Melissa Stevens- is new to town- moved to town with her father. She is looking for the post office- which is just across the street. Barney has to give her a police escort- meanwhile Thelma Lou walks out of the grocery store and sees what is going on and is none to happy. I will say this- when Thelma Lou gets upset with Barney she usually has a reason- in comparison to later in the series when Helen Grump gets mad at Andy and usually it's hard to figure out why.
Thelma Lou goes into the jail and talks to And- as this is going on- in walks Barney who when confronted by Thelma Lou- just continues to dig himself a bigger hole. Andy is sitting there and a few times he tells Barney 'you better change the subject'- but Barney goes on and on making it worse for himself. Thelma Lou tells Barney he made a big fool out of himself with the girl- and he certainly did. The confrontation ends with Thelma Lou breaking up with Barney- or at least they both can now see other people. Andy is sitting there rather quietly taking it all in- after Thelma Lou leaves- he tells Barney ' she will simmer down' and that is good practice for marriage- argue and make up.
Barney no sooner tells Andy he's done with women- when Melissa calls inviting him over for dinner. Of course he goes and all seems to go well that evening. Barney even gets to play some harmonica for Melissa and her 'father.'
The next morning Barney walks into the jail all smiles -he's walking on air. Andy tells him he had better stop messing around and stay true to Thelma Lou. Again Andy's sound advice goes in one ear and out the other.
Barney goes back over for dinner- and this time the 'father' leaves Barney and Melissa alone on the couch- and Melissa gets all cuddly with Barney- which clearly makes Barney very nervous and jittery. When Melissa says to Barney 'Wouldn't you like to stay like this forever'- he answers "Yes' and Melissa starts yelling for her father- telling her 'father' that Barney has proposed.
News gets around fast in Mayberry- in the Mayberry Gazette in the morning Andy is having breakfast and reads of Barney and Melissa- heading towards marriage. Barney then rushes into the house with the paper- now he wants Andy's advice and help- he's in a panic.
Andy and Barney go to Thelma Lou's with Barney waiting outside while Andy explains it all to Thelma Lou. In the end that works out- Barney is sorry for his behavior and promises never to talk to another woman again. Thelma Lou just tells him to quit making a fool out of himself.
Now they still have the Melissa situation to deal with. Barney thinks he is somehow off the hook- he told her it was over- but just when he was getting cocky again- the phone rings in the jail. Melissa's 'father' calls – Barney has broken his promise- and talks of a 'breach of promise' lawsuit against Barney.
The next day Melissa and her 'father' come in to the courthouse- and Andy calls their bluff- he sense they aren't all that broken up about this broken promise- and as the Justice of the Peace- decides to settle things by marrying Barney and Melissa. Melissa flips out- she isn't going to marry this 'squirt.' Andy was correct. It turns out they are a married couple. Andy tells them he won't arrest them but they need to leave town.
Barney is still confused about it all- doesn't really know what happened. When explaining why he thought it was a scam- Andy tells Barney he didn't think a pretty big city girl was going to marry some 'squirt" -and walks out on Barney.
The final segment- Barney is at Thelma Lou's- and the lights are out- Andy comes in- and when the lights come on- you see Barney on the couch- his face covered with lipstick. Andy is laughing- Barney of course not understanding just how he looks.