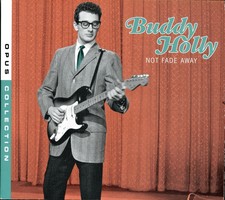 2021 Song Draft- Round 3 Pick 4- Cincinnati Babyhead selects- 'Not Fade Away'- Buddy Holly.
Right away the beat gets ya.
"I'm gonna tell you how it's gonna be..You're gonna give your love to me.."
One of the best songs ever. So many musicians that I like cover it and do it live. I've seen Joe Ely (Fellow Lubbock citizen like Buddy) several times and he says "He never does a show without playing a Buddy Holly song". He kills this one in concert
"My loves bigger than a Cadillac.."
Man what a song. Cincinnati Babyhead just loves it and loves it some more. Babyhead jumps up when he hears this one and starts to move.
Buddy Holly is the man. What a treasure. Staple for CB. He's heard it a million times and intends to listen to it another million.
"You know my love not fade away.."