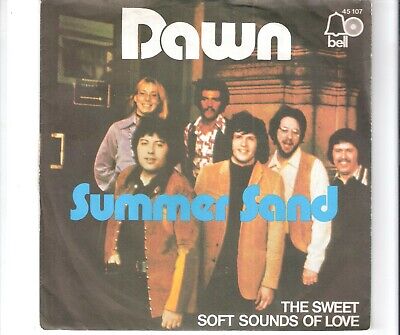 Billboard Top 40 Hits 1971: #117: 'Summer Sand'- Dawn. June 19, 1971.
Single: 'Summer Sand'- Dawn
Record Company- Bell
Genre: Pop
Written by Irwin Levine and Russell Brown
Time: 2:54
B-side: 'The Sweet Soft Sounds Of Love'
Album-Dawn featuring Tony Orlando
Grade: C
Peaked at #33 10 weeks in Billboard Hot 100.
I never got the appeal of Tony Orlando and Dawn. 20 Hot 100 singles from 1970-77 with 14 cracking the Top 40. 3 #1′ s- 'Knock Three Times" 1970, "Tie A Yellow Ribbon Round The Ole Oak Tree- 1973 and 'He Don't Love You [Like I Love You'] in 1975. They appealed to the masses who aren't all that serious about their music-and would accept whatever the AM radio programmers played for them.