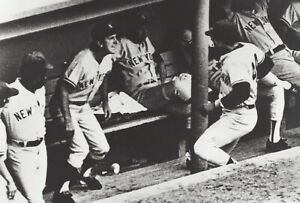 Great Baseball Moments- I have one of those memories- just kidding- but I do remember like it was yesterday- forty four years ago today. The NBC Baseball Game of the Week. The New York Yankees were visiting the Boston Red Sox at Fenway Park in Boston. The Red Sox had a half game lead on the visiting Yankees.
Back in the 1970's- for me the Saturday Game of the Week was 'must see' television. Back then living in the Pittsburgh area I got to see a lot of- but not every Pirate away game on television. No home games were televised. Other than that there was the Saturday Game of the Week and Monday Night Baseball on ABC. I especially looked forward to seeing American League games on Saturday and Monday night-because that was my only chance to see American League teams.
I was camped out in from of the television forty-four years ago to watch this big showdown between these two rivals. It was a hot afternoon in Boston and the old ballpark was crammed full of people- 34,602 the largest Saturday afternoon crowd at Fenway in twenty seasons.
The Red Sox led 7-4 in the bottom of the 6th inning. Fred Lynn singled for the Red Sox and then Jim Rice hit a fly ball to right field which fell in in front of Yankee right fielder Reggie Jackson for another hit. Yankee manager Billy Martin came out to replace starting pitcher Mike Torrez- and when he returned to the dugout told outfielder Paul Blair to get his glove and replace Reggie in right. Billy was incensed with what he was as Reggie Jackson's lackadaisical play in right field. Reggie hadn't exactly given a full effort going after the Rice fly ball. This was the ultimate embarrassment to a very proud Reggie Jackson- to be taken out in the middle of an inning like this. Unless a player is hurt or there is some move of strategy [ in the National League- a two for one switch] – you just don't see a player removed like this. I remember immediately being jolted out of my seat while watching all this. I was loving it. I hated the Yankees and here was more trouble in the Bronx Zoo.
Truth was Reggie Jackson was not Billy Martin's kind of ballplayer. In the off-season when Yankees owner George M. Steinbrenner opened his pockets to sign free agents- Billy advised him to sign outfielder Joe Rudi. Rudi was a Billy kind of player. But Steinbrenner liked big names and there was no bigger 'name player' than Reginald Martinez Jackson. When Jackson came to the Yankees in spring training he gave an interview in Sport Magazine where he said that he 'was the straw that stirred the drink'- and that the Yankees catcher Thurman Munson who was viewed as the Yankees leader by everyone- could only stir it badly. This got Reggie off to a bad start with Munson and also with Billy. Munson was a Billy kind of player.
Back to the ballgame- and instead of my describing 'what happened next-before the entire nation on National Television- I will just attach the video. It was great.