2021 Movie Draft- Round 9- Pick 8- Hanspostcard selects- fantasy- Field Of Dreams.
For some reason the sports that translates well to both writing [ fiction and non-fiction] and movies are baseball and boxing. I have always been a big baseball fan and of course I enjoy baseball movies. My favorites would come down to two very different baseball movies- Bull Durham which was selected earlier in the draft by Music City Mike- and Field Of Dreams. What both movies have in common is-Kevin Costner in his prime baseball movies.
Field of Dreams is without question a very sentimental movie. In reading reviews Roger Ebert wrote that it was the kind of movie in which Frank Capra would have directed and James Stewart would have starred in. Back when it was in the theaters in the spring- summer of 1989 I saw it in the theaters six times and the ending always got me. The day is came out on VHS I had to have a copy- anytime I come across it playing on television I will stop and watch it even if I found it mid way through.
'If You built it he will come"- Ray Kinsella [Costner] heard voices. He heard voices and couldn't ignore those voices. An Iowa farmer- he plows up his cornfield. I am not going to go into details and ruin the movie for anyone who hasn't seen it- but along the way we get the long dead baseball great Shoeless Joe Jackson coming to his baseball field to play, [the movie is based on W.P. Kinsella's excellent novel Shoeless Joe] Ray tracking down an iconic 60's writer- Terence Mann [a fictional character]- going to Minnesota to find an obscure ballplayer who appeared in one game decades earlier who never got to bat named 'Moonlight' Graham. [Graham existed- W.P. Kinsella was looking through the Baseball Encyclopedia one day when he came across Graham- and saw that Graham had appeared in only the one game and never got to bat] and Ray's own long dead father. All these characters are essential to the story. The acting in the movie is outstanding. 'Moonlight' Graham as an old man is played by Burt Lancaster in his final movie role. Ray Liotta plays Shoeless Joe Jackson, James Earl Ray is Terence Mann, Amy Madigan as Ray's wife Annie and Tim Busfield as Annie's annoying brother Mark.
Over the years I have watched this movie countless number of times-including twice already this year. I loved the movie so much that in 1991 I visited the Field Of Dreams- the farm in Dyersville, Iowa where the ball park was built. Now 32 years after the movie premiered- the baseball field is still there–and still draws people. Dyersville, Iowa by the way is well off the beaten path- to go see the Field of Dreams you have to want to see the Field of Dreams- its far from an interstate. I am looking forward to this August- Major League Baseball is going to play a regular season game on the field- with the New York Yankees playing the Chicago White Sox.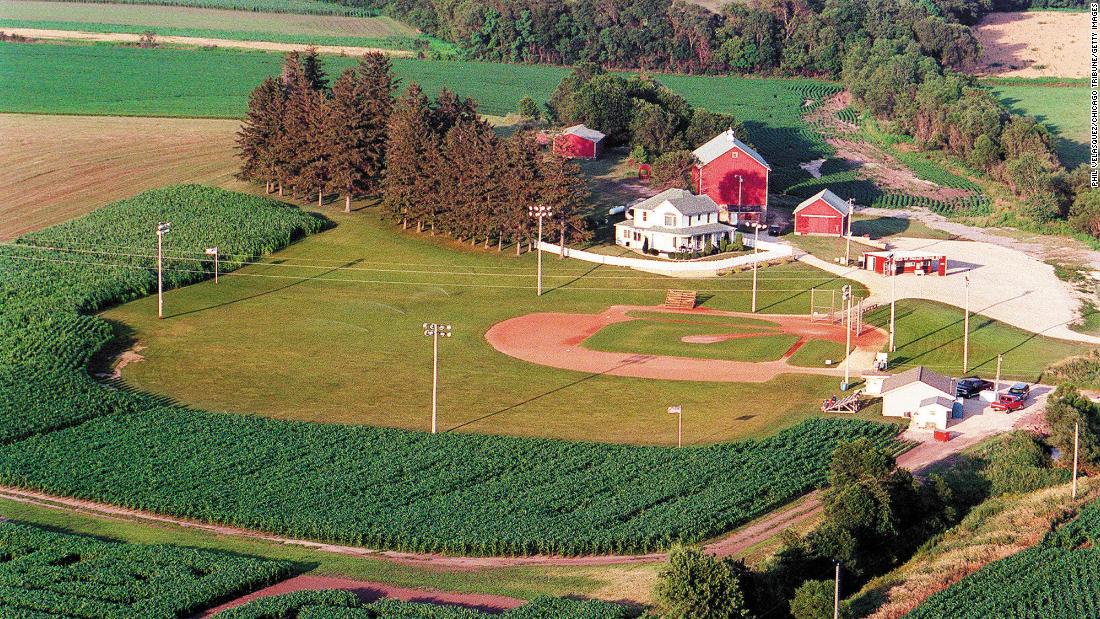 Seeing the movie as often as I have- of course there are holes in the movie- here are a few which kind of annoy me. 1-Shoeless Joe Jackson in real life hit left handed and threw right- in the movie Ray Liotta playing Joe is hitting right and throwing left. 2- Ray is a big baseball fan. Terence Mann had been a big baseball fan until the Dodgers left Brooklyn for Los Angeles 30 years earlier. They go to a game at Fenway Park in Boston and leave in the middle of the game. 3- Joe Jackson's story in real life is far more problematic than presented in the movie. 4-In the big speech that Terence Mann [James Earl Jones] gives about baseball- 'the one constant through all the years Ray has been baseball'- great and memorable BUT given by a character who is an African-American. Baseball which barred African-American's from the major leagues until 1947. I know it's a movie- and a movie I love even with these imperfections.
If you ever hear voices you should follow those voices.
And yes- I have over the years walked into a cornfield or two.