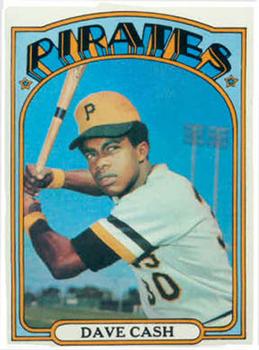 Game 3- Sunday afternoon April 11, 1971 -2:15 pm start.
Braves starter right-hander Jim Nash quieted the Pirate bats- giving up seven hits- all singles- to seven different batters in going the distance beating the Pirates 3-1. The Pirates led 1-0 until the bottom of the 7th when first baseman Orlando Cepeda hit a solo home run off of Pirate starter Dock Ellis to tie it. In the bottom of the 8th with one out- pitcher Nash singled and was then tripled home by Sonny Jackson, Jackson then scored on a sacrifice fly by Ralph Garr- and that was the final 3-1. Dock Ellis went the distance for the Pirates. He didn't pitch a bad game-just had little run support.
Jim Nash is an interesting case. As a 21 year old rookie with the Kansas City A's he went 12-1 with a 2.06 ERA. He wasn't brought up to the major leagues until July that year. In the spring of 1967 he would appear on the cover of Sports Illustrated. Maybe it was the Sports Illustrated jinx that got him. Nash never lived up to his early success and also battled shoulder problems. He threw his last major league pitch at the age of 27 in 1972.
Dave Cash led off for the Pirates- making his first appearance for the season. He would get the majority play at second base in 1971- with veteran Bill Mazeroski in his next to last season sliding into a reserve role. The Pirates only run came in the top of the 5th inning when Cash singled in Jackie Hernandez with two outs.
10,220 attended the game- it was another rapidly completed game- 1 hour and 52 minutes.
The Braves take 2 of the 3 games in the series- and the Pirates who won their first three games of the season leave Atlanta with a 3-2 record and head to Philadelphia for a three game series at Veteran's Stadium.
https://www.baseball-reference.com/boxes/ATL/ATL197104110.shtml