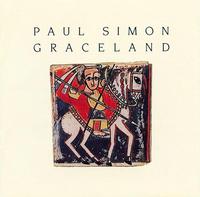 2020 Album Draft- Round 10 Pick 9- Eclectic Music Lover selects- Paul Simon- Graceland.
As everyone has noted, choosing the last album for the final draft was a real challenge, as I still have several I'd like to take with me to that desert island. Among those I strongly considered were "Led Zeppelin IV", "Hejira" by Joni Mitchell, "What Went Down" by British alt-rock band Foals, "The Darker the Weather // The Better the Man" – a recent favorite by Austin, Texas-based electro-hip hop duo MISSIO, and "Judy at Carnegie Hall" – the 1961 Grammy-winning live album of Judy Garland's legendary concert. How's that for an eclectic assortment? In the end, I chose another legendary album instead – the beautiful masterpiece "Graceland" by Paul Simon. I'm frankly surprised it hadn't already been picked, as it's such a beloved album.
When the album came out in August 1986, I was living in the Los Angeles region and, like many who live in that megalopolis, had a long daily commute. I would record albums or make mixtapes on cassettes so I could listen to music on my long commutes. "Graceland" was one of my favorites, and I listened to it repeatedly for many months.
Before digging into the album and songs, a bit of background would be helpful to provide some context for its creation. Following his successful run of hit albums and singles as a solo artist throughout the 1970s, by the early 1980s Simon had hit both a personal and professional slump. His relationship with Art Garfunkel had deteriorated yet again, his 1983 album "Hearts and Bones" was a commercial disappointment, and his marriage to actress Carrie Fisher had fallen apart. After suffering through a period of depression, in 1984 he became fascinated with a bootleg cassette tape of an album "Gumboots: Accordion Jive Hits, Volume II", that had been loaned to him by singer-songwriter Heidi Berg, with whom he'd been working as her producer. In his liner notes for "Graceland", Simon described it as "very up, very happy music" that sounded familiar, yet foreign.
Simon and his engineer Roy Halee traveled to Johannesburg in February 1985, and spent two weeks recording with Lulu Masilela, Tao Ea Matsekha, General M. D. Shirinda and the Gaza Sisters, and the Boyoyo Boys Band. The album's opening track "The Boy in the Bubble", recorded with Lesotho band Tao Ea Matsekha, was one of the songs recorded at those sessions. The song has a powerful, bass-driven rhythmic groove, highlighted by an accordion that provides a lively, almost carnival-like vibe, setting a nice tone for the album.
Overall, "Graceland" is characterized by an eclectic mixture of music styles and genres, including pop, rock, a cappella, zydeco, isicathamiya, and mbaqanga, and reflecting the various locations where the album was recorded. Consequently, some songs are clearly African, while others sound like songs that you'd hear in New Orleans or Nashville. The album has a wonderful flow, alternating between playful and more serious songs. Simon thought of it as like a play: In that New York Times interview, he explained "As in a play, the mood should keep changing. A serious song may lead into an abstract song, which may be followed by a humorous song."
Every track on the album is great, but one of the standouts is the title track "Graceland", a gorgeous, contemplative tune that was awarded a Grammy for the 1988 Record of the Year, a year after the album itself won for 1987 Album of the Year. The song features performances by fretless bass player Bakithi Kumalo and guitarist Ray Phiri, as well as Simon's childhood heroes The Everly Brothers on backing vocals. In his album liner notes, Simon remarked that the song had the feel of American country music, adding: "After the recording session, Ray told me that he'd used a relative minor chord—something not often heard in South African music—because he said he thought it was more like the chord changes he'd heard in my music." The song is thought to be about seeking solace from the end of his relationship with Carrie Fisher by taking a road trip.
The album cuts based on South African styles and sounds are pure delight. "I Know What I Know" is based on music from an album by General M.D. Shirinda and the Gaza Sisters, who collaborated on the song and sang backing vocals. I love the unusual guitar notes and distinctive lilting chant-like vocals of the Gaza Sisters. "Gumboots", the song that got this whole thing started, is named for the term used to describe the type of music favored by South African miners and railroad workers, and refers to the heavy boots they wear on the job. With support by the Boyoyo Boys themselves, the song has an upbeat Cajun zydeco feel, highlighted by charming synclavier and dual alto and soprano sax. Another favorite is "Diamonds on the Soles of Her Shoes", a wonderful collaboration with Ladysmith Black Mambazo, one of South Africa's best known and loved groups.
Another collaboration with Ladysmith Black Mambazo is the sublime a capella track "Homeless", with lead vocals by Joseph Shabalala, who co-wrote the song with Simon. With a melody based on a traditional Zulu wedding song, the lyrics are in both English and Zulu, and address poverty within the black majority in South Africa, telling of people living in caves on the side of a mountain, cold and hungry. "Crazy Love, Vol II" is a lovely, joyful song, with instrumentals played by guitarist Ray Phiri's band Stimela.
Perhaps the biggest and best-known song from the album is "You Can Call Me Al", a bouncy and clever tune about a man going through a mid-life crisis: "Why am I soft in the middle? The rest of my life is so hard." The musical highlights are Simon's six-string electric bass, the exuberant sax, trumpets and trombones, and the charming pennywhistle solo played by Morris Goldberg.  The names in the song came from an incident at a party that Simon went to with his first wife Peggy Harper. French composer and conductor Pierre Boulez, who was at the same party, mistakenly referred to Paul as "Al" and to Peggy as "Betty". The humorous video for the song was actually a replacement, as Simon didn't like the original video that was made. The replacement video was conceived partly by Saturday Night Live producer Lorne Michaels and directed by Gary Weis, with SNL alum Chevy Chase lip-syncing Simon's vocals and making silly gestures punctuating the lyrics while Simon lip-synced to the backing vocals and brought into a room various instruments to play.
Unfortunately, some of the songs generated a bit of controversy. Simon invited Linda Ronstadt to sing with him on the lovely "Under African Skies", for which he received criticism, as three years earlier she had accepted $500,000 to perform at the South African luxury resort Sun City. "That Was Your Mother", recorded in Louisiana, features the American zydeco band the Good Rockin' Dopsie and the Twisters. Dopsie felt Simon had derived the melody from his song "My Baby, She's Gone", and was upset over not being credited, but decided not to take legal action. And on the rousing final track "All Around the World or the Myth of Fingerprints", a collaboration with East Los Angeles-based Mexican-American band Los Lobos, the band felt they deserved writing credits. Band sax player Steve Berlin later recalled that Paul Simon "quite literally—and in no way do I exaggerate when I say—he stole the song from us. We go into the studio, and he had quite literally nothing. I mean, he had no ideas, no concepts, and said, 'Well, let's just jam' and then goes, 'Hey, what's that?' We start playing what we have of it, and it is exactly what you hear on the record."
Be that all as it may, "Graceland" earned unanimous praise and was awarded the Grammy for Best Album of 1987. It's Simon's most successful solo album, selling more than 16 million copies worldwide, and in the recent update of their list of 500 Greatest Albums of All Time, Rolling Stone ranked it at #46 (up from #71 in 2012).
The last word comes from The Clash's Joe Strummer, who in a 1988 interview with Richard Cromelin for the Los Angeles Times said: "I don't like the idea that people who aren't adolescents make records. Adolescents make the best records. Except for Paul Simon. Except for 'Graceland'. He's hit a new plateau there, but he's writing to his own age group. 'Graceland' is something new. That song to his son is just as good as 'Blue Suede Shoes': 'Before you were born dude when life was great.' That's just as good as 'Blue Suede Shoes,' and that is a new dimension."