2020 Album Draft- Round 9 Pick 8- Dave A Sound Day selects Midnight Oil- Diesel And Dust.
It's getting to the "interesting" part of this 100 album draft arranged by Hanspostcard. Interesting because many of us have picked some obscure albums in the last couple of rounds, exposing us to some new records and in a few cases, even artists who are new to us, and interesting as in "frustrating." Frustrating to me at least, because as we go into Round 9, well, there are just too many great albums to narrow it down so much! I have had my tenth and final pick tentatively picked for a few weeks so Round 9 means I had to opt for a final album out of …many. So many. I had a list of at least half a dozen I wanted to do, and even had this round's half-written about another album before changing my mind yet again. **Spoiler Alert** – there are rumblings of an extra bonus round or two for specific categories, stay tuned to find out more from Hans if that happens, so a little strategy played into it as well. If I leave "this artist" out now, I might be able to bring them back in an extra round and go for a different album this time sort of thing.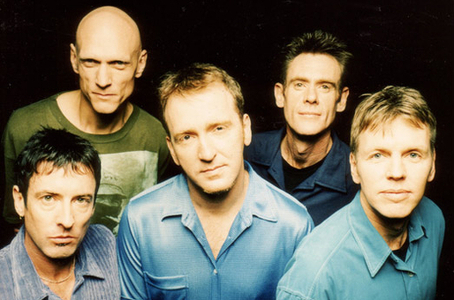 Anyway, there are many, many albums I'd like to recommend and rave about still, but for this round I'm going with the great rock and roll album of the 1980s, Midnight Oil 's Diesel and Dust. Forget Motley Crue and Ratt, this was the tour de force hardcore rock album of the era.
It was the Aussie's sixth album, and one much-awaited Down Under., I'm sure. By 1987, they were already immensely popular there, their previous album being a #1 hit in their homeland. But over here, not so much. Perhaps they caught a break with the timing. As The Simpsons once spoofed, in the '80s North America had a brief infatuation with all things Australian – Crocodile Dundee, Men At Work, Yahoo Serious, Fosters beer, vegemite sandwiches. All good fun but a little lightweight. "They're Australian too,like Men At Work. And Elle McPherson," one can imagine Columbia Records execs telling American radio people in the day. Yes they were, but they were anything but lightweight!
Midnight Oil had always been a rock band, and a political one to boot. But things really ramped up for them when they toured much of the Outback with a number of Black Aboroginal artists in the mid-'80s, seeing the conditions in the small towns and reservation-like land holdings and hearing the story. The result was Diesel and Dust, an album Rolling Stone declared was "the last word in rock and roll road songs", a package that "roars and throbs like the giant double-trailer trucks that chew up the asphalt ribbons" that straddle the endless desert miles of the island continent. They also picked it as the best album of the year.I figured I'd need at least one upbeat, high- energy record to get me up. out of the hammock and moving on that island, and this is a good one. Nay, a great one.
The ten songs all bubble with energy, even the relatively slowish few like "Arctic World" and "Whoah", a song kicked off with an acoustic guitar intro that moves from lulling you to sleep to kicking you await and seethes with pent-up energy and anger one feels is about to break loose any moment. Even the chorus with its harmonic lullaby-like "Whoah"s is challenged by singer Peter Garrett's sneering "don't want to see you around" .
The best tracks though are full-tilt rockers like "Bullroarer", "The Dead Heart" and of course, the international hit single, "Beds Are Burning." A "Bullroarer" is actually an ancient tribal instrument, played by swinging it around over one's head (shows how much I knew about Australia… I used to assume it was another name for a Bulldozer!) that can be heard at the start of the song telling people "don't take the law into your own hands, don't go looking for a fight" before kicking into a chorus that dares you not to join in. The song ends with some nice jangly guitars, reminding me of how Pop Matters rated the album 9 out of 10 and compared it to "punk-informed fire by way of a little REM jangle." Not a bad description for the song, or the album in general. Two of the finest musical movements of the previous decade rolled into one booming sonic kaleidoscope.
" Beds Are Burning," as Jim Harrington, a California journalist noted, is "an all-time modern rock anthem" which let "the rest of the world get the picture" of what Australians knew, that Midnight Oil was their most political, and best, rock band. It roared onto the North American airwaves and TV screens in the desert-like summer of '88 (the line "the western desert lives and breathes at 45 degrees" seemed very fitting to me, and many on our side of the ocean that year, as it was an abnormally hot summer. 45 degrees, by the way, would be about 113 over here…Australia use Metric.) The song, and the album as a whole captured that Australian heat and burning energy emphatically. In fact, emphatic seems to be a good phrase to sum up the album. And catchy, hook-laden too.
The lyrics tend to be political, and often Australian-specific, but on a broader level apply the world over. Again referring to Pop Matters , they mention retrospectively how "'the Dead Heart' conveys sentiments that feel all too relevant in today's globalized economies : 'mining companies, pastoral companies, uranium companies, collected companies, got more rights than people, got more say than people." I have to agree with that, and while I'm not up on all the issues the Oil address in the songs, and might even find things to disagree with Garrett over, here and there if I were, it's hard to dislike a message delivered so passionately. They kept the main thing about being a political band front and center on Diesel and Dust – that the music has to be the main thing above the message. When the lines became blurry for Garrett, to his great credit, he quit the band and decided to go into politics himself to work for changeoff-stage. He was elected three times to the Aussie government and was even Minister of Environment, as well as Minister in charge of Education for the country at times. If anyone can ignore or disrespect that, it's beyond me how. Eventually he got tired of the politics of , well, politics, and restarted Midnight Oil not long ago.
Emphatic. Urgent. Rockin'. And Australian… what could be more appropriate for a record to take to a "desert island" than a fine example of music made on an island that is largely desert?
Diesel and Dust . Listen. Dance along. Shout along. I regret about six or seven albums I won't name right now that aren't here… but this album was very deserving of a top ten list.