2020 Album Draft- Round 4 Pick 7- Badfinger20 selects- The Zombies- Odessey and Oracle.
Badfinger20's blog can be found at – https://powerpop.blog/author/badfinger20/
In the early 90s, I purchased the Zombie's greatest hits. The cd contained the usual songs Tell Her No, She's Not There, and Time Of The Season. I had read about The Zombies in music books and how other bands admired them for their jazz and classical influences.
They are best remembered for those three hits but also for one album…Odessey and Oracle. With this album, they elevated themselves to new heights…but that took a little while. In Rolling Stone magazine in the 80s and 90s I read great writeups about this album. Finally, I tried it for myself and was more than happy I did. Many critics hailed this album as one of the greatest of the decade and it lived up to their hype.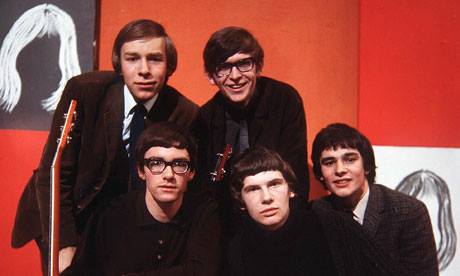 By the way… The band wanted to call the album "Odyssey and Oracle" but cover artist Terry Quirk accidentally spelled the title wrong and the band decided to run with the misspelling.
By 1967 they were close to being done. They were broke and had to pay for most of the sessions. Tell Her No and She's Not There were 3 years in the past and in pop music…that was a lifetime.
They got together in Abbey Road studios right after The Beatles finished Sgt Pepper in 1967…even using John Lennon's Mellotron. They ended up recording one of the best albums of the sixties. April 18, 1968, was the UK release date. It was a little while after that before America heard it.
The album almost didn't get released in America. Al Kooper worked for Columbia Records as a staff producer in the A&R department. One of his first assignments was to go to London and he bought around 40 albums that could only be bought there. Odessey and Oracle stood out from all of the rest.
Clive Davis was about to sign off on this album not being released in America. Kooper changed his mind and convinced Clive to release the album. That is how the album was released and Time of the Season became a hit. By the time Time Of The Season peaked at #3 in 1969 the band had broken up.
It ended up ranked at #100 in Rolling Stone Magazine best 500 albums of all time. Not bad for an album that only peaked at #95 in the Billboard Album Charts in 1969.
The best way I can describe this album is somewhere between psychedelic pop/rock and baroque pop. I think that is a fair statement. I suggest listening to this album with headphones. The Zombies paid attention to detail and the backup vocals are outstanding. It the year that Sgt Pepper and The Piper at the Gates of Dawn were recorded… Odessey and Oracle belong with those albums.
It's pure joy to sit and listen to this album. I'll highlight these songs.
Time of the Season is the big hit off the album and also…there is an official law in the books about this song. If you produce a film about the 1960s this song must be played. The song is great and it does transport you to that time. What's your name? Who's your daddy?
(He rich) Is he rich like me?
Care Of Cell 44 is the real star of the album to me. The song is arranged beautifully. with part vocal-only arrangements, You can hear Brian Wilson and Paul McCartney's influence in this recording. Chris White's (Zombies bass player) bass playing is phenomenal in this song. If Paul McCartney and Brian Wilson had a baby…this is what it would be. Take a listen to this one.
This Will Be Our Year is a wonderful optimistic song. It sounds like it should have been a hit but it was stuck on the B side to Butcher's Tale (Western Front 1914) which is more of an experimental song and not exactly very commercial…that was a wasted opportunity.
Another song that caught me on the first listen is A Rose For Emily. The theme is very similar to Eleanor Rigby but more subdued. "And as the years go by, she will grow old and die, The roses in her garden fade away, not one left for her grave, not a rose for Emily…"
Put this album on with some headphones and travel back to the sixties.
So far on my island…all the albums are within 4 years (1968-1972) of each other but that suits me fine. I'm sure an album will break that eventually. Odessey and Oracle brings some beautiful pop music to my hut. Grab a coconut and come over…we will listen to the Zombies…btw…Have you seen Mary Ann? I've been looking for her.
Care Of Cell 44
A Rose For Emily
Maybe After He's Gone
Beechwood Park
Brief Candles
Hung Up On A Dream
Changes
I Want Her She Wants Me
This Will Be Our Year
Butcher's Tale (Western Front 1914)
Friends Of Mine
Time Of The Season