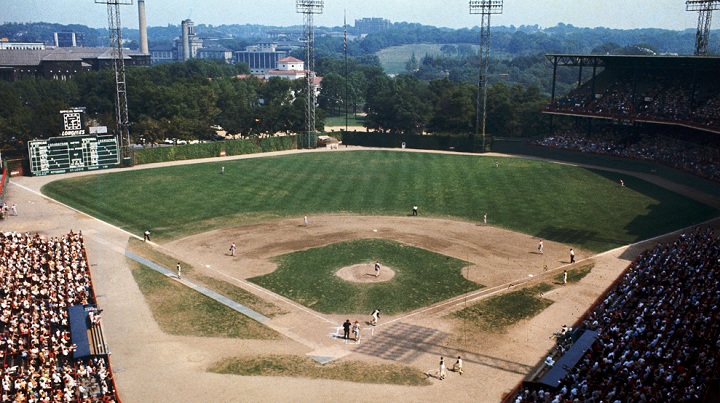 Remembrance Of Things Past: A Farewell To Pittsburgh's Forbes Field- Sunday June 28, 1970.
50 years ago today the final games were played at Pittsburgh's Forbes Field beating the Chicago Cubs in a doubleheader 3-2 and 4-1. 40,918 fans packed the ballpark that day to say farewell. Forbes Field at that point had a capacity of 35,000. Forbes Field at the time of its closing was the second oldest ballpark in the major leagues behind Shibe Park the home of the Philadelphia Phillies.
I wasn't at the final game at Forbes Field- but I was at the penultimate date- the day before on Saturday June 27- my grandfather and I went to the game. We were sitting on the first base side about half way up- pretty good seats. The Pirates won that day 2-1. I had become a baseball fanatic in 1967 and went to my first game in May 1968. I was seven and my memory of the first time my eyes saw the field is as clear as if it happened 5 minutes ago. The grass looked so green. I couldn't keep my eyes off of it as we were walking to our seats. Sat on the first base side that day too. The Pirates were playing the St. Louis Cardinals- and before the game Orlando Cepeda -a future Hall of Famer was signing autographs. My father encouraged me to go down and get his autograph but I was much to shy. Over the next 2 1/2 years I went to somewhere between 18-24 games. My father took me to most of them. He wasn't a big fan but I can't recall his ever not taking me if he was off work and I asked. My Uncle Maximilian, my grandfather took me to games. My first year in little league everyone in the league went- and while most of the other kids had never been there- I was like the tour guide. I knew my way around the joint.
That next to last game that I attended- I was nine and I do remember people were sad to see the old ballpark go but there was also excitement- in a couple weeks the sparkling new Three Rivers Stadium would open. To be honest looking back- while old Forbes Field which opened in June 1909 as a state of the art ballpark- it had seen better days. It was run down- money hadn't been put into it for a while. They needed a new ballpark.
When the ballpark was built- in the Oakland section of Pittsburgh- it was on the outskirts of the city but by the time it was closed things had grown up. The University of Pittsburgh surrounded the ballpark. While I certainly wasn't driving to the games then- parking was a huge headache. I can remember my dad pulling some fella to park in his little front yard. I always remember when we'd get back to the car my father/uncle/grandfather was always relieved that the car was still intact.
The ballpark itself. A couple strange features- the backstop was 110 feet behind home plate. I could and still can't figure out the reason for this. If there was a wild pitch or pass ball that went back to the back stop the catcher really had to hustle or a fast base runner might try and take two bases instead of one. At that time most ballparks on average had their back stop at 60 feet. Also there was a lot of foul territory- again I don't understand what they were thinking when they designed this ballpark- a lot of seats could have been added closer to the field.
Forbes Field was a pitchers ball-park it was huge- the only short part of the field was down the right field line- 300 feet. To the deepest part of center field it was 457 feet. After battling practice what did they do with the batting cage? They hooked it up and took it out and placed it just to the left field side of the 457 marker- in fair territory. I never saw the battling cage interfere with play. It looked like it was a mile away.
The infield over the years became rock hard. The most famous example of how this impacted baseball history- Game 7 of the 1960 World Series when a bad hop nailed Yankee shortstop Tony Kubek in the throat- leading to Kubek's departure from the game and a big Pirate rally.
There was never in the history of Forbes Field- over 4700 games- a no hitter. While it was a pitchers park- because it was one of the leagues most difficult ballparks to hit home runs- all that outfield space- led to no-no hitters.
The right field roof. To hit one over the high right field roof it was a shot- it would take a blast to hit it over the 86 foot high roof. It only happened from 1926 when it was added to the park until 1970- 18 different times by 10 different players. The great Babe Ruth at the end of his career hit his final home run #714 over the roof. Willie Stargell did it seven times. I was lucky enough to see it happen once- Willie Stargell hitting one off of the Mets Tom Seaver. I can recall watching the ball go- and it just kept going- disappearing over the roof. It was a shot. I often wonder how many times Stargell would have put home runs into the Allegheny River- at PNC Park today.
Forbes Field closes- and on July 16th, 1970 the Pirates opened their new stadium Three Rivers Stadium. I was able to go to one of the early games at Three Rivers – It was exciting- a new stadium [ I never thought of this place as a ballpark} but the novelty quickly wore off not only for me but for most fans. It was a multi-purpose stadium which was all the rage at the time- one place and you could have baseball, football, concerts etc. there. It had artificial turf. I still loved going to games but it didn't feel like baseball- like Forbes Field did. Over the years I heard many people at ballgames talk about how they missed old Forbes Field. Three Rivers Stadium was replaced in 2001 with PNC Park- this time they got it right. PNC is a jewel.
Note- They of course tore down Forbes Field- in late 1970 early 1971. The University of Pittsburgh at had owned the park for years and would build facilities where the ballpark once stood- except for the part of the left field wall where Bill Mazeroski's 1960 World Series winning home run went over. That remains- and to this day on the anniversary of that event fans gather at the wall and listen to a replay of the game.