Remembrance Of Things Past: Coincidence Or Conspiracy- The Fall of Rock and Roll's Icons late 1950's.
The emergence of the popularity of Rock and Roll in the 1950's concerned a lot of authority figures. It was the devil's music! It was going to be the ruination of the nation- leading to juvenile delinquency, the mixing of the races, sexual promiscuity and on and on. They tried to tone it down by promoting lame ass performers like Pat Boone who had not an ounce of soul or talent- but when that didn't end it- they had to get rid of the leading stars of rock and roll. Well probably not- but by strange coincidence in a matter of a couple of years the great 1950's rock and rollers were silenced- If they had set out to do it- they couldn't have done a better job. In chronological order-
Little Richard- On October 12, 1957- Richard announced he was abandoning rock n' roll and embracing God. He would return in 1962 but he wasn't the same- he never had another hit.
Elvis Presley- following the bad advice of carny turned manager- Colonel Tom Parker- one of the great villains in Rock and Roll history- Presley ended up spending two years in the U.S. Army- stationed in Germany. From March 1958 until March 1960 Elvis was sidelined. Sure he came back- and spent the 1960's making mostly awful throwaway movies- again following Colonel Parker's advice but as John Lennon later famously said "Elvis died when he went into the army."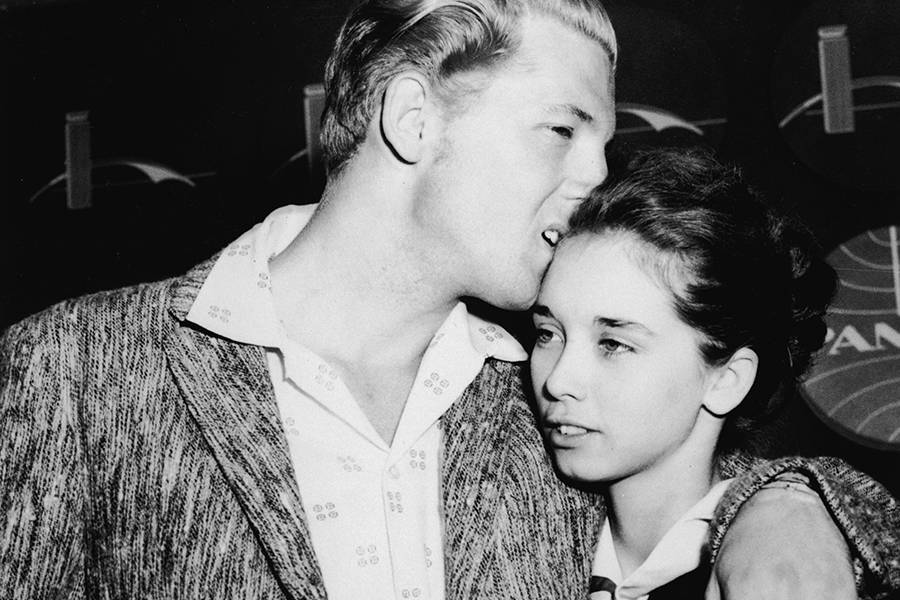 Jerry Lee Lewis- "The Killer"- revealed while touring in England in May 1958 that his third wife [ Jerry Lee was twenty-two at the time} Myra Gale Brown was his first cousin once removed- and was 15 years old. Actually she was only 13. The tour of the United Kingdom was cancelled after three shows- and for a time so was Jerry Lee's career. He would make a comeback in the 1960's but in country- not rock'n' roll.
Buddy Holly- February 3, 1959- "The Day The Music Died"- Buddy Holly, Ritchie Valens and The Big Bopper are killed in a plane crash. Buddy Holly was only 22 years old- and had already produced a lifetimes worth of great and influential music- in only an 18 month period of time. Who knows what the future would have held?
Chuck Berry- The true King of Rock n' Roll- arrested on a morals charge in December 1959- violations of the Mann Act. After fighting it out in the court system he ended up serving a year and a half in prison- February 1962-October 1963. His career as a hit maker never really got back on track.
Eddie Cochran- 21 year old star who already had such hits as "Somethin' Else", C'mon Everybody", "Twenty Flight Rock"- and most famously "Summertime Blues" – killed in a car accident while touring in England on April 17, 1960. Also injured in the accident was Gene Vincent of "Be-Bop -A- Lula" fame.