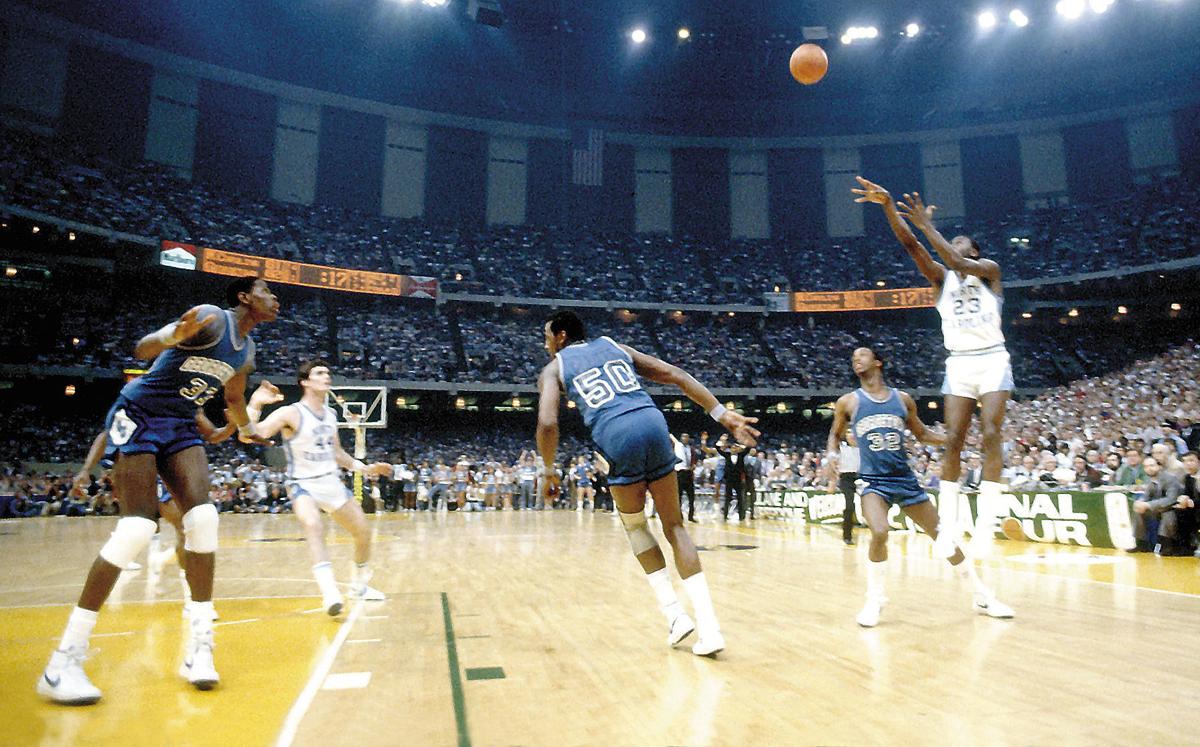 Remembrance Of Things Past- Michael Jordan Alive On Arrival– NCAA Basketball Championship Game- March 29, 1982- North Carolina 62 Georgetown 62.
Michael Jordan has been back in the news this past month with the acclaimed ESPN documentary- The Last Dance- which focused on his career in the NBA with the Chicago Bulls. I must admit over the years while I didn't deny his greatness I wasn't much of a fan- especially in the 90's when the only way you could avoid him was probably to be living in a cave.
Michael Jordan had an outstanding freshman year at North Carolina in 1981-82. He was the ACC Freshman of The Year- averaging 13.4 points a game. North Carolina under the great coach Dean Smith was team oriented and the scoring was very balanced- James Worthy was the leading scorer with 15. 6 points a game and as a junior got the most ink. There was no doubt though watching Jordan that year a number of times that he was a future star. I don't think anyone had a clue how big that star was going to become.
The NCAA Championship game that year was at The Superdome in New Orleans and it matched the two best teams- the Georgetown Hoyas lead by sensational freshman Patrick Ewing- against the North Carolina Tar Heels. It was a close game the entire way – and with 57 second to go Georgetown led by one point- 62-61 when Eric Smith put the Hoyas ahead. North Carolina had the ball- and with .15 to go Jimmy Black hit freshman Michael Jordan who was open with a pass and Jordan's shot put the Tar Heels ahead by one- 63-62. That would be the final score. Jordan a freshman had stepped up and hit the pressure shot to win it. Who would have guessed what was to come. He would play two more seasons at North Carolina- and was the National Player of The Year in 1993-94 his junior season- before leaving for the NBA. He was the third pick in the 1984 draft by the Chicago Bulls. Infamously the Portand Trail Blazers with the second pick passed on Jordan and took the injury prone Sam Bowie- leaving Jordan for the Bulls to scoop up. To be fair though at this point the consensus was that of course Jordan was going to be a star in the NBA- but no one was predicting that he'd become the greatest player in the history of the NBA.