Things To Do In Gettysburg- Part 3: Gettysburg In Winter:
Until two weekends ago- we had never been to Gettysburg in December or January. There are a few pluses going to Gettysburg in the winter- 1- there are no crowds so you have the place pretty much to yourself, a handful of fellow travelers and the local folks. 2- The hotel prices are as low as you will ever find them in Gettysburg for a weekend.
Now you never know about the weather in the winter. A couple weekends ago it was cold and windy but there was no snow. Planning a trip to Gettysburg in the winter you need to keep an eye on the forecast. We had planned on going the weekend before we did- but when I saw early in the week that snow/ice was expected over the upcoming weekend we changed our plans. Turned out to be a good move- the weather that weekend was bad.
Some minuses for going in the winter-even on the weekend a lot of the souvenir type stores are closed and ones that are opened on the weekend in the winter are closed during the week. Another minus is the weather- it's winter most likely it will be cold.  While the Gettysburg National Military Park/ Visitors Center- Museum is open there are no outside RangerPrograms scheduled in the winter. I love the Ranger programs and the only Ranger programs they have in the winter are the lectures at the Visitor Center on Saturday and Sunday.
Winter Lecture Series: January 11 – March 22, 2020
National Park Service rangers and leading historians from across the country offer free hour-long talks exploring important aspects of the American Civil War and the Battle of Gettysburg.
Free tickets will be distributed from the theater podium beginning at 9 am on the day of the lecture. Doors open at noon.
Select presentations may be filmed for inclusion on the park YouTube channel. Check the park's social media platforms for updates.
Gettysburg National Military Park Museum and Visitor Center.
Saturdays and Sundays at 1:30 pm.
These programs are free of charge.
Limited seating is available on a first come – first serve basis.
Schedule is subject to change.
---
Sat. January 11 – Ranger Matt Atkinson ~ Freemasonry at Gettysburg: Fraternal Bonds Tested by Battle
Sun. January 12 – Ranger Bert Barnett ~ Gettysburg – Recovery, Memorialization, Preservation, & Commercialization
Sat. January 18 – Historian Codie Eash ~ Pray for Oblivion to His Memory: Frederick Douglass on the Legacy of Robert E. Lee
** Due to inclement weather, this lecture was cancelled but is rescheduled for Saturday, March 28. **
Sun. January 19 – Prof. Kent Gramm ~ Gettysburg: The Living and the Dead
Sat. January 25 – Ranger Steve Phan ~ The Defenses of Washington during the Gettysburg Campaign
Sun. January 26 – Historian John Heiser ~ Neglected Heroes of Gettysburg: The Army Mule
Sat. February 1 – Artists Pat Bauer and Dave Geister ~ Tales from the Little Log House on the Emmitsburg Road
Sun. February 2 – Ranger Angela Atkinson ~ The Second Middle Passage: An Examination of the Antebellum Interstate Slave Trade
Sat. February 8 – Ranger Troy Harman ~ Is Gettysburg the High Water Mark?
Sun. February 9 – Ranger John Hoptak ~ "With Eagles on their Buttons and Bullets in their Pockets:" South-Central Pennsylvanians in the 54th Massachusetts Infantry
Sat. February 15 – Ranger Daniel Vermilya ~ "These Honored Dead:" World War II Burials in the Gettysburg National Cemetery
Sun. February 16 – Ranger John Nicholas ~ What you don't know can hurt you: The Information War and the Gettysburg Campaign
Sat. February 22 – Ranger Tom Holbrook ~ If These Things Could Talk: Treasures from the Collection of Gettysburg National Military Park
Sun. February 23 – Historian Christopher Gwinn ~ Memories of Battle – Union Veterans Remember Culp's Hill
Sat. February 29 – Ranger Barbara Sanders ~ Beyond Lincoln: How Veterans, Politicians, Poets and Filmmakers Address the Changing Meaning of the Civil War
Sun. March 1 – Licensed Battlefield Guide Mary Turk Meena ~ The Messy Business of War: Civil War Runs Headlong into Politics as Politicians Fight for Power and Breed Jealousy, Self-Promotion and Self-Preservation Among Military Leaders
Sat. March 7 – Ranger Zach Siggins ~ The Flying Dutchmen: The 11th Corps on July 1
Sun. March 8 – Artist Wendy Allen ~ Searching for the Exact Location of America's Soul: An Artist's Pursuit
Sat. March 14 – Ranger Matt Atkinson ~ Earl Van Dorn: The Life and Death of a Confederate Cavalier
Sun. March 15 – Ranger Karlton Smith ~ Soldier in Training: James Longstreet and the Mexican War
Sat. March 21 –Ranger Troy Harman ~ Scouting the Union Right: Lee and Culp's Hill, July 1-2
Sun. March 22 – Ranger Bert Barnett ~ Personal Turning Points: Jefferson Davis and George Thomas
Sat. March 28 – Historian Codie Eash ~ Pray for Oblivion to His Memory: Frederick Douglass on the Legacy of Robert E. Lee
Also every Sunday night at the Farnsworth House- Licensed Battlefield Guide and the Adams Country Historical Societies Historian- Tim Smith gives a talk on a different subject every week. The Sunday we were there- he gave a talk about Jennie Wade the only civilian who was killed during the battle. We have gone on a couple battlefield tours in the past with Tim and he's great at what he does. I just wish his Sunday talks were on the internet.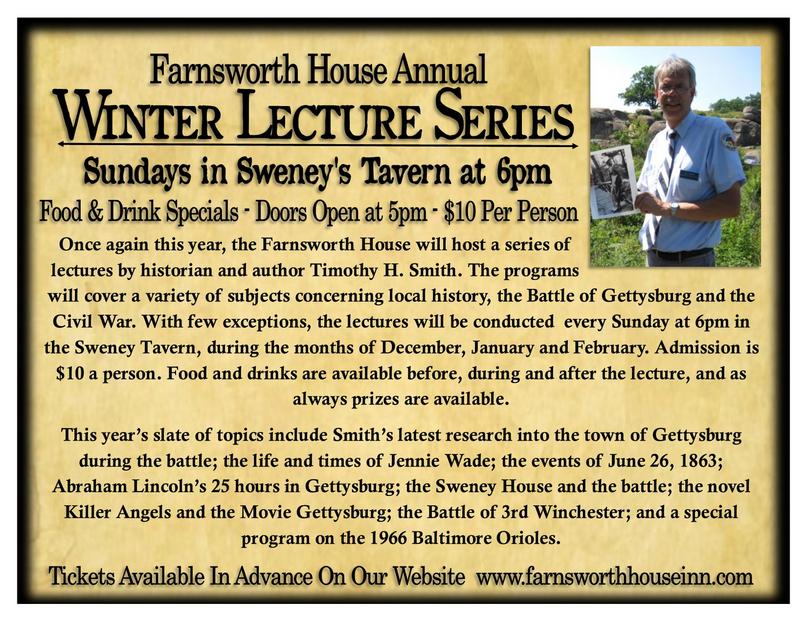 In December there is a Gettysburg Christmas Festival – I have never been to it but below is a link that gives some info on what they have going on at the festival if that is what you are into.