Things To Do In Gettysburg- Part 2- The Eisenhower National Historical Site. To get there you need to go to the Gettysburg National Military Park's Visitor Center- and ride the shuttlebus to the Eisenhower home. The cost is $9 for adult 13+ and $5 for ages 6-12. There is no parking at the site- you need to take the shuttlebus. Open 9am-5pm every day of the year but Thanksgiving, Christmas and New Year's Day.
After this retirement as 34th President of the United States- Dwight and Mamie Eisenhower moved to Gettysburg to live on this 690 acre farm which he bought back in 1950.  While he was POTUS the Eisenhower's used the farm as a weekend retreat. It was the first home that they had ever owned.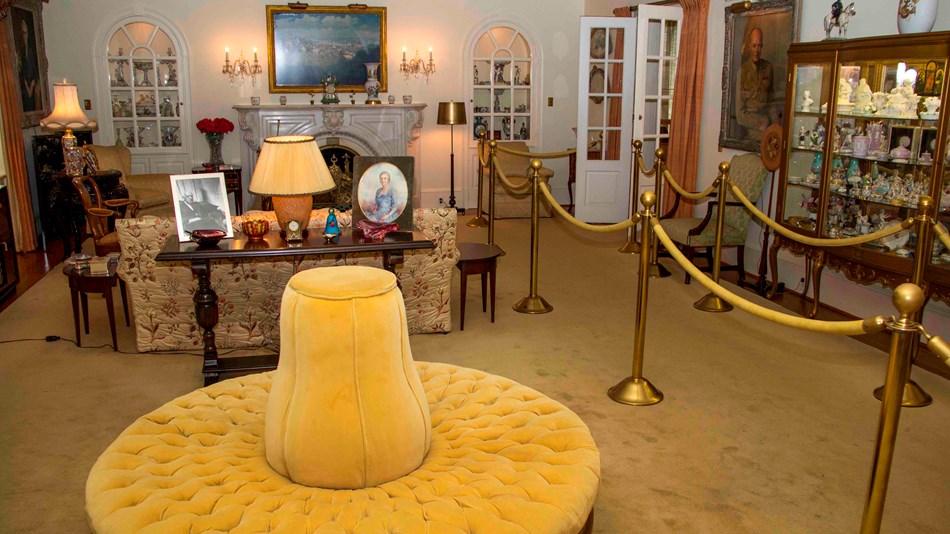 Ike was assigned to Camp Colt in Gettysburg in 1918 in command of a tank training unit. He and Mamie had married in 1916.  During their years together with Ike in the U.S. Army they never owned a home- moving from post to post. After WWII when Ike got the position of President of Columbia University in 1948 Mamie suggested that they finally buy a home of their own. They bought what was a run down farm for $40,000 outside of Gettysburg. Ike was elected POTUS in 1952- and the property was renovated starting in 1953 and completed in 1955. During his time as POTUS Ike and Mamie would spent from the time the renovation was completed in 1955 until he left the presidency- 365 days at the farm.  The longest period of time he spent there was 38 days in a row in 1955 when he was recovering from a heart attack.
After his presidency ended the Eisenhower's moved to Gettysburg. They had many famous visitors over the years- Nikita Khrushchev, Charles de Gaulle, Winston Churchill, Governor and future POTUS Ronald Reagan and General  Bernard Montgomery among others.
Ike had a cattle operation at the farm with a show herd of Black Angus Cattle. Ike also had a putting green right outside the house, a skeet range and a view of both the South Mountains and the Gettysburg battlefield. Ike's farm is just a hop, skip and a jump away from the Presidential Retreat Camp David.
Over the years I have been to the Eisenhower National Historical Site three times. It is worth visiting if you are interested in Ike, the presidency or American history. The farm is nothing extravagant. On the tour they take you on a tour of the house. It was a comfortable home. I can't imagine say the Kennedy's or the Roosevelt's living there. In 1967 the home was donated to the National Park Service- but the Eisenhower's continued to live there. Ike died in 1969, Mamie lived there until her passing in 1979. The National Park Service opened the site in 1980.