Every Entry Into The Billboard Hot 100 Singles Chart- 1969- Part 45. All of today's entries came on the charts the week of March 15, 1969. "The Pledge Of Allegiance"- Red Skelton, "Move A Little Closer, Baby"- Mama Cass and " "Time Was"-Canned Heat.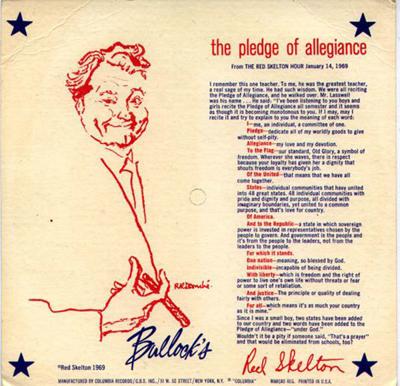 134. "The Pledge Of Allegiance"- Red Skelton. Columbia. Spoken Word. B-side: "The Circus": Red Skelton had his own The Red Skelton Show from 1951-71. It was a very popular show as a kid I would watch it. I think it was one of those shows that worked in its era but wouldn't today.  On January 14, 1969 edition of his show he did the Pledge Of Allegiance and explained every word in it. Skelton's Pledge Of Alligiance- was released as a single. It would be the only Hot 100 entry of his career and it just missed making the Top 40- at #44- spending 6 weeks on the chart. I knew a teacher who every year would recite this word for word- and I don't recall him ever giving Red credit. No grade its not a song.
135. " Move In A Little Closer, Baby"- Mama Cass. Dunhill. Pop. Written by Arnold Capitanelli and Robert O'Connor. B-side: "All For Me." Mama Cass from The Mamas and The Papas charted 7 singles into the Hot 100 as a solo performer. Her biggest hit was "Dream A Little Dream of Me" #12 in 1968. 3 of her 7 singles made the Top 40. "Move A Little Closer, Baby" peaked at #58 and spent 6 weeks on the chart. Born Ellen Naomi Cohen in Baltimore- Mama Cass according to urban legend died by choking on a ham sandwich in 1974 in London at the age of 32. She actually died of a heart attack. Keith Moon the legendary drummer of The Who  really did die four years later in the same London apartment. Grade: B-.
136. "Time Was"- Canned Heat. Liberty. Blues Rock. Written by-Al Wilson, Bob Hite, Fito Da La Parra, Frank Cook, Henry Vestine, Larry Taylor. B-Side" Low Down" Canned Heat had 6 Hot 100 hits -4 made the Top 40- their most known songs "Going Up The Country" #11 1968 and "On The Road Again" #16 also in 1968. "Time Was" peaked at #67 and spent 5 weeks in the Hot 100. The blues rock band was formed in Los Angeles in 1966 and had a tragic history- the two leaders of the band died young- "Al "Blind Owl" Wilson of a drug overdose in 1970 at the age of 27 and Bob Hite from a drug related heart attack at 36 in 1981. Their guitarist Henry Vestine died of heart and respiratory failure in 1997 at the age of 52. Grade: B