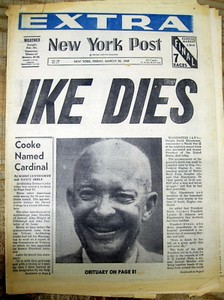 Hans Remembers- Friday March 28, 1969- Ike has died. The 34th President of the United States and the five-star general who during World War II served as supreme commander of the Allied Expeditionary Forces in Europe died at Walter Reed Army Medical Center in Washington, D.C. at the age of 78 due to congestive heart failure.
Ike had been hospitalized since April 29, 1968- 11 months. He was hospitalized after suffering a heart attack while playing golf in California. He was transferred to Walter Reed where he suffered three more heart attacks and an operation for an intestinal obstruction in February 1969- and pneumonia -but all along it was his heart that concerned his doctors and the end finally came 50 years ago today. When I hear "Walter Reed" I automatically think of Ike- his failing health at the time was a daily news story.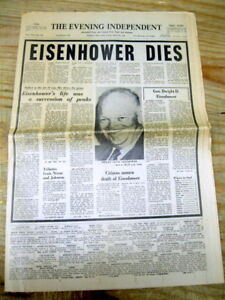 Ike's presidency is a good case as to why there needs to be some time before a presidency is judged as a success of  failure. At the time he left office he left he was given at best an average rating by historians but as time has gone by-and more has became known about his presidency and his hands on approach to the office- his stock has risen. Most historians rank him now in the Top 10 POTUS ever.  When you combine his role in World War II and his presidency easily one of the great Americans of the 20th century.