Hans Mount Rushmore of All-Time Greats today- is the Boston/ Milwaukee/ Atlanta Braves franchise. They have in their history had a number of great players- so again its decision making time a few deserving candidates will be left off.
1- HENRY AARON- Bad Henry- [what the pitchers in the National League called him} is an easy choice to make as the greatest player in Braves history. He did what many thought was impossible when he broke Babe Ruth's home run record back in 1974. He ended up with 755 career home runs- with a career batting average of .305.  The other day I ran across a discussion- if you were the general manager of a team in a league that had the choice of any player who ever lived- and you had the first pick who would you take? Aaron is certainly one of the top 10 players ever- is he the best ever? I think Babe Ruth was the GOAT- but if you were starting a team up- could there be a better pick than Aaron? Aaron was durable- he was going to be out there playing every day- was rarely hurt. It wasn't until he was in his late 30's that he missed more than 20 games in a season. He was deadly consistent – year in and year out he put up similar numbers. He was a quiet superstar- who never sought the spotlight- never caused a manager any problems. No controversies here. a team player respected by teammates and opponents alike. He was always in great shape. He wasn't  a spectacular player like his contemporary Willie Mays. He was quietly efficient. I forget who wrote this but the quote was to appreciate Mays if the Giants were in your town playing a three game weekend series was to see Mays on Friday night and you would come away knowing that he was a great player. For Aaron you'd have to go to all three games in the series and at the end of the third game you'd realize that he went 8 for 14 with 2 home runs and 8 RBI's in those three games. He wasn't flashy at all- his home runs cleared the fence- they weren't tape measure home runs. If the ball was hit his way he caught it- he didn't make highlight film catches. You could do a lot worse with that #1 pick than taking Bad Henry.
2. WARREN SPAHN: In the discussion for the title of greatest left handed pitcher of all-time. Spahn has the most wins- 363 of any left hander who ever pitched His 363 wins also is the most of any pitcher who played their entire career post 1920 . He won 20 or more games 13 times in his career. At the age of 42 he went 23-7. Consider also he missed three seasons due to World War II- he most likely would have had over 400 career wins without the war. Was known as a smart pitcher who was great at fooling the hitter. During one stretch in his career he led the NL in wins 5 years in a row and in complete games seven years straight. A 17 time All-Star. He pitched two no-hitters, led the league in ERA 3 times and in strikeouts 4 times. I would rank him only behind Lefty Grove on the greatest lefty pitchers list- and he's not far behind him.
3. EDDIE MATHEWS- Mathews I would consider the greatest third baseman ever- before Mike Schmidt came along. Some trivia- Mathews is the only player to play with the Braves in- Boston- Milwaukee and Atlanta. The heart of his career was as a Brave-he played 15 years with the Braves before finishing up with Houston and Detroit. My memories of him is at the end with Detroit when they won the World Series- he got 4 plate appearances in that series and retired at 36. I knew he had over 500 home runs so he was a great one at one time.  In the end he had 512 home runs. A 12 time All-Star- led the league in home runs twice. Would be tough facing both Mathews and Aaron in that line-up.  Later managed the Braves for a couple seasons. Although he has been passed as the GOAT thirdbaseman of all times I'd still rank him in the top 5. More Mathews trivia- he was on the cover of the first issue of Sports Illustrated.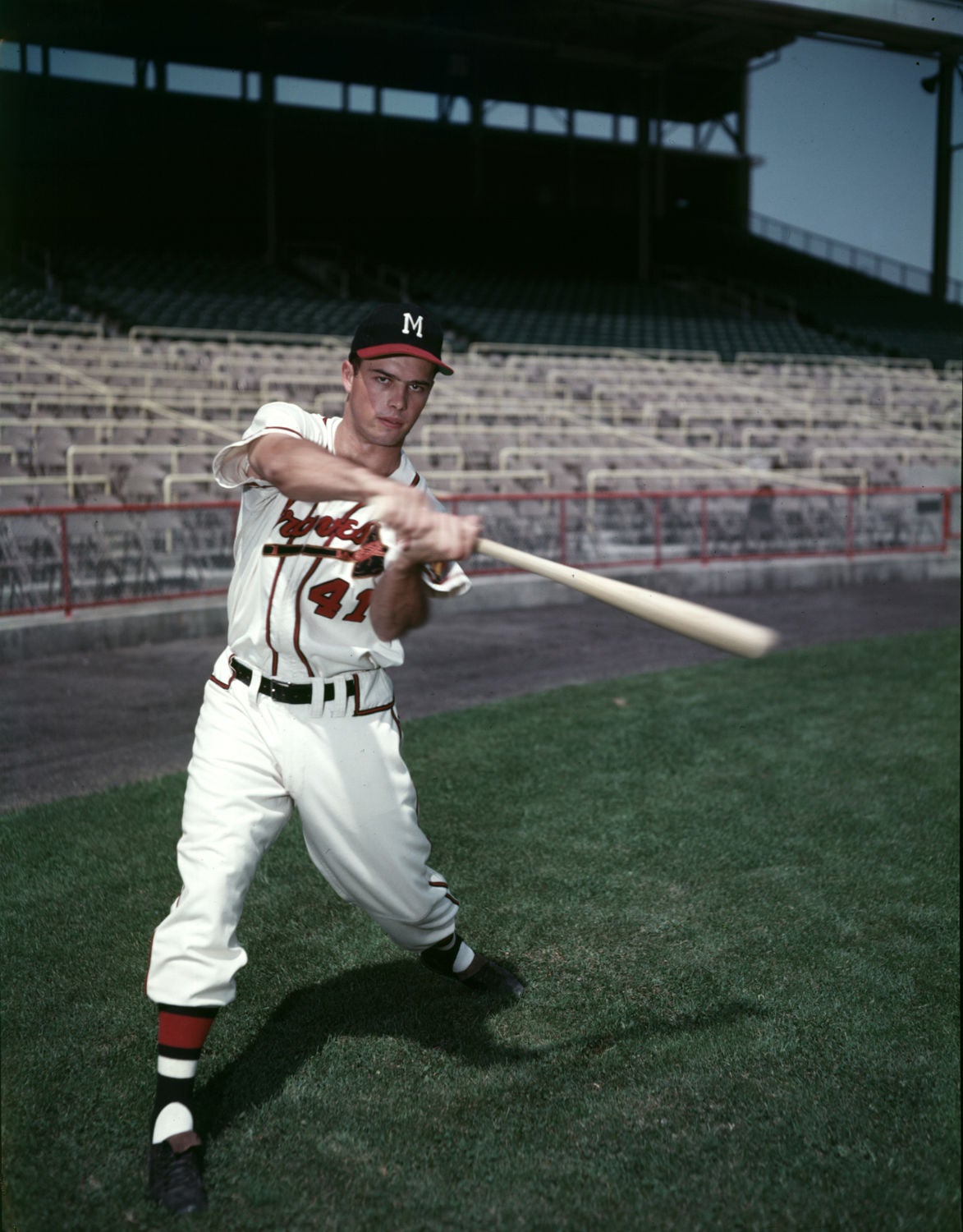 4. CHIPPER JONES-  Chopper to Chipper. For the fourth slot it came down to Chipper- or pitchers- Maddux, Glavine, Smoltz or Kid Nichols all Hall of Fame pitchers- I gave the edge to Chipper who spent his entire 19 years with the Braves. He was recently inducted into the Hall of Fame on the first ballot. 468 home runs- 303 career average. Funny how things work out – the Braves were wanting to take pitcher Todd Van Poppel with the first pick- he was going to be the next Nolan Ryan. Van Poppel told the Braves -who were awful at that point he wouldn't play for them- so the Braves took Larry Jones with their first pick–and Van Poppel fell to the Oakland A's- where he was a journeyman in the majors with a 40-52 record and a 5.58 ERA- he was awful. I think the only reason he played for parts of 11 seasons is- teams kept thinking they could turn him around because well- he was going to be great coming out of high school. Jones was a regular with the Braves at 23 and was great from the get go. One of the top half dozen third baseman of all-time. After Schmidt at number 1- throw a dart as far as the order -you have Mathews- Chipper- Boggs- Brett- Beltre- Brooks Robinson..