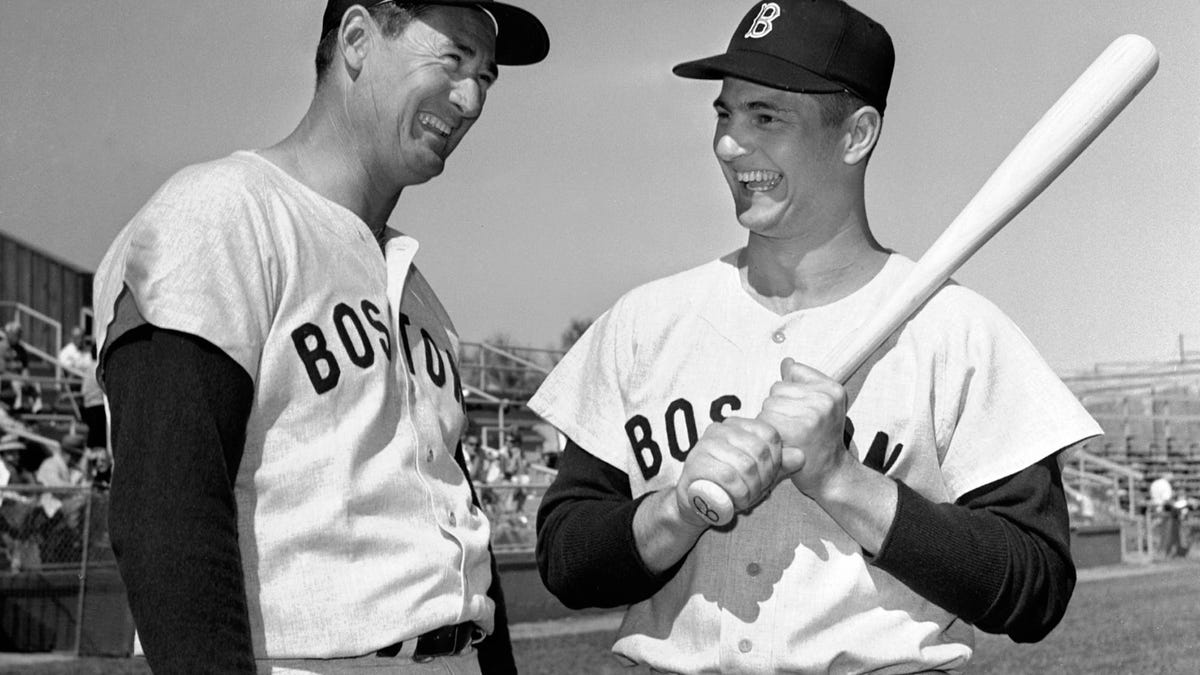 Selecting the New York Yankees Mount Rushmore yesterday was a piece of cake- this one is a little trickier. There are two obvious no-brainers- two all time greats who spent their entire careers as Red Sox- after that it is complicated because you have a number of great players who were also with other teams during their careers.
Ted Williams. Teddy F. Ballgame- his goal was to walk down the street and have people say 'There goes the greatest hitter who ever lived."- he probably accomplished his goal. The two ballplayers I have read the most about are The Babe and Ted. Both had difficult childhoods. Ted was obsessed with hitting a baseball even at a young age. I have always wondered if he had had a normal childhood with on hands parents would he have became the great hitter he was? His mother spent her time working with the Salvation Army- his father usually wasn't around. Ted grew up feeling unloved. He became an obsessive. Growing up in San Diego helped he could play ball year round. I don't think there has ever been a player who thought so much- and talked so much about hitting. Someone once asked Joe DiMaggio about hitting and he tried to explain it- and couldn't- and ended up saying- "Just watch" as he went into the battling cage to hit. Ted could talk endlessly on the science of hitting. Books on Ted- a recent one is my favorite- The Kid: The Immortal Life Of Ted Williams- 2013, Ted Williams – The Biography of An American Hero- by Leigh Montville 2004.. if you are interested in the science of hitting- Ted's own book "The Science of Hitting." I also enjoyed Ted's autobiography My Turn At Bat.
2. Carl Yastrzemski- Like the Yankees replacing DiMaggio in center with The Mick- how about the Red Sox- they had three Hall of Famers in a row in left field- from Ted to Yaz to Jim Ed Rice. Like Ted, Yaz spent his entire career with one team- Boston. Yaz played 23 seasons with the Sox. He will always be remembered first for his Triple Crown season of 1967[ it would be 45 seasons until someone else won the Triple Crown} when he carried the Red Sox on his back to the World Series. He had an incredible September that year. He won the batting title the next season- 1968 The Year of the Pitcher with a .301 battling average still the lowest average to ever win a battling title.
3. Roger Clemens- Now the problem with selecting four Red Sox begins- a lot of outstanding players- who played with other teams too. A Red Sox fan might not have Roger on the list since things ended badly there. I chose Clemens over Cy Young- they had nearly similar records as Red Sox- Clemens 192-111 and Young 192-112- Young had a superior ERA but that was in the dead ball era. Clemens played 13 years with the Sox and Young only 8.  Pedro Martinez was another who I considered but he only played 7 seasons- they were the best of his career and he was a dominating pitcher but I will go with Clemens.
4. Wade Boggs- Wade Boggs was a hitting machine. A career .328 hitter he won all five of his battling titles as a Red Sox. He played 11 of his 18 years in a Red Sox uniform. I have always loved studying baseball statistics. I miss the old Baseball Encyclopedia and Total Baseball. I spend a lot of time on baseball.reference- but i like the book in my hands. Anyway with Boggs the stat that has always fascinated me about him is- this fella played 18 seasons and hit only 118 career home runs- but in one season 1987 he hit 24. His second best home run total is 11 in 1994 and that was in the strike shortened year. Where did that power surge come from in 1987? I have heard it said that if had wanted to he could have hit 25 home runs a year but he was more interested in hitting for average- and going for power would have hurt that. If you remember seeing him play you also probably remember he never swung at the first pitch. In his career he walked  1412 times and struck out only 745 times. He always seemed to get the bat on the ball. He also ate chicken before every game.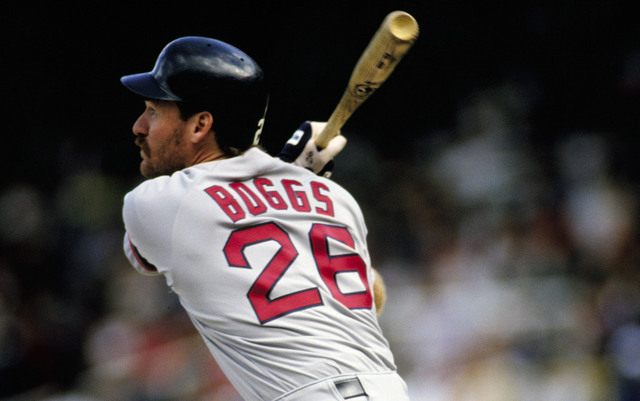 Others under consideration- I am sure most Sox fans would have taken David Ortiz. Jimmy Foxx, Carlton Fisk, Jim Rice, Tris Speaker, Dwight Evans all got consideration- a good debate can be made for the 3rd and 4th slots- no debate over Ted or Yaz.