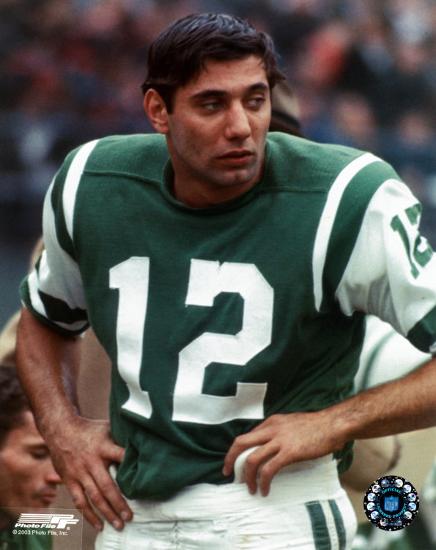 It was fifty years ago today- Sunday December 15, 1968 the NFL and AFL Football regular seasons came to and end. The AFL had ten teams in two divisions- a playoff would have to be held in the AFL West between Oakland and Kansas City to see who made the playoffs due to both teams finishing tied for first place. In the 16 team NFL- the playoffs were set with the four division winners being Dallas, Cleveland, Baltimore and Minnesota. Today the NFL has 32 teams and teams play a 16 game schedule- back then they played a 14 game schedule.  The team to beat for the Super Bowl was the Baltimore Colts who had a dominating 13-1 regular season. One thing is certain the Green Bay Packers who won Super Bowl's I and II would not be in Super Bowl III-in their first season without the legendary Vince Lombardi as their head coach- the Packers had a losing season at 6-7-1 and failed to make the playoffs.
AFL FINAL STANDINGS
AFL EAST– 1. N.Y. JETS 11-3  2. HOUSTON  7-7   3-MIAMI 5-8-1  4.BOSTON 4-10  5.BUFFALO 1-12-1.
AFL  WEST  1. OAKLAND 12-2  1. 12-2.  3-SAN DIEGO 9-5  4-DENVER 5-9  5. CINCINNATI 3-11.
NFL FINAL STANDINGS
NFL CAPITOL  1. DALLAS 12-2  2. NY GIANTS 7-7  3.WASHINGTON 5-9  4.PHILADELPHIA 2-12
NFL CENTURY 1. CLEVELAND 10-4  2. ST. LOUIS 9-4-1  3. NEW ORLEANS 4-9-1 4. PITTSBURGH 2-11-1.
NFL COASTAL 1. BALTIMORE 13-1  2. LA RAMS 10-3-1  3. SAN FRANCISCO 7-6-1. 4. ATLANTA 2-12.
NFL CENTRAL  1. MINNESOTA 8-6  2. CHICAGO 7-7  3-GREEN BAY 6-7-1  4. DETROIT 4-8-2.