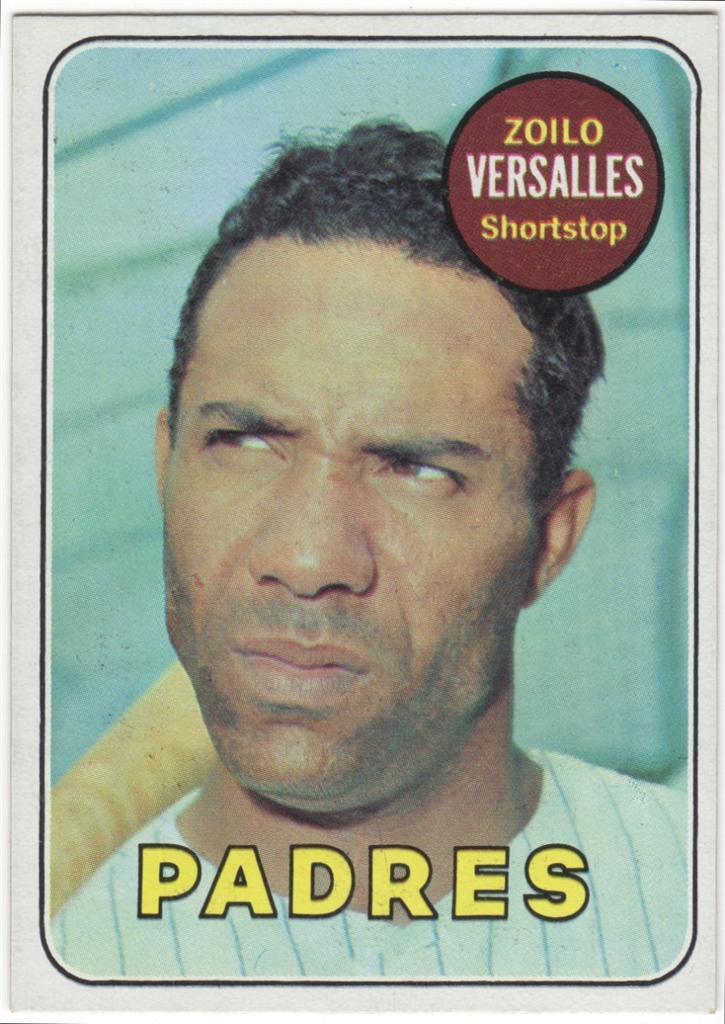 Although he appears in his 1969 card as a San Diego Padre, Zolio Versalles  he would never play for the Padres. He was selected by them in the expansion draft but traded six weeks later in December of 1968 to the Cleveland Indians. I had this card- you think they could have done him a little better.
Zolio Versalles that name brings up one season- 1965- Minnesota Twins- when at the age of 25 as the Twins shortstop  he led them to the World Series and was named the MVP of the American League. That was his moment of greatness. His last season as a regular would be at 28 in 1968 and he would be out of baseball at the age of 31.
Born in Havana, Cuba, Versalles was signed by the Washington Senators prior to the 1958 season- this was pre-Castro Cuba he was leaving right before the revolution. He would have a hard time adjusting to America due to the language barrier and homesickness. He would start in the minor league system for the Senators and play shortstop.
Versalles made the majors at the age of 19 with the Washington Senators [soon to be Minnesota Twins} in 1959. He wouldn't stick with team until their first year in Minnesota in 1961. During his career as a starter he played shortstop, he would also play second and third as a utility player later in his career.
When Versalles stuck with the Twins as at the age of 21 he became their regular shortstop through the 1968 season. In one six year stretch from 1962-67 he played in 159 or more games in 5 of the 6 seasons. Although he is remembered for that great 1965 season he was always a solid player. He made the AL All-Star team in 1963- leading the league in triples that season and winning a Gold Glove.
1965 as I mentioned was Zoilo's year. He was the Twins spark leading them to the World Series where they would lose to the Los Angeles Dodgers. He led the league that year in at bats, total bases,  runs scored,  doubles, triples- for the third straight season, and won a Gold Glove. He also led the league in striking out- not something you want to lead the league in unless your a pitcher! His numbers that year 19 home runs, 77 RBI-both were career highs, a .273 average- he also added 27 stolen bases another career high only getting caught 5 times. Those numbers today do not look MVP like but in looking at 1965 the top 10 players WAR were all in the National League. Versalles was deserving of the MVP Award. He received 19 of the 20 first place votes. The other first place vote went to teammate and fellow Cuban Tony Oliva. Twins third base coach Billy Martin is given a lot credit for his help with Zoilo that season.
Zoilo Versalles was 5'10" 146. He hit and threw right handed. His nickname was Zorro. His teammates called him Zippy- Zee. He was responsible for overturning a stereotype- up until he came along Cuban shortstops in the majors were thought to be small, slick fielding and weak hitting. Versalles was small but he could hit. He is thought of by many as a 'one year wonder"- but he was a good player for a five year period. At a rather young age his career took a nose dive. After hitting .200 in 1967 the Twins traded him to the Dodgers- some fairly well known names were in that deal- Mudcat Grant also went to the Dodgers- coming to the Twins- Ron Perranowski and John Roseboro. After a poor season in Los Angeles- he hit .196 that season he was left unprotected and taken by the expansion San Diego Padres- then quickly traded to Cleveland.  He was sold to Washington in mid-season 1969 and released at the end of the year. He spent 1970 in the Mexican League before returning to the majors in 1971 playing briefly for the Atlanta Braves where at age 31 his career would end. His rapid decline at an early age could be attributed to a back problem that would bother him for the rest of his life. In the middle of the 1966 season he hurt his back and never was the same player. He would play in Japan in 1972.
Zoilo Versalles had a hard time adjusting to life after baseball. He lived in the  Minneapolis area but his lack of fluency in English and lack of non-baseball skills made it hard to find steady employment.  He had to sell his MVP Award, Gold Gloves and All- Star rings.  He had health issues- stomach surgery and  he suffered two heart attacks .He was found dead in 1995 at the age of 55 cause of death was heart disease.
Career numbers – 95 home runs, 471 RBI,.242 career average, 97 stolen bases. He is probably the least accomplished player to ever win the MVP Award in either league.