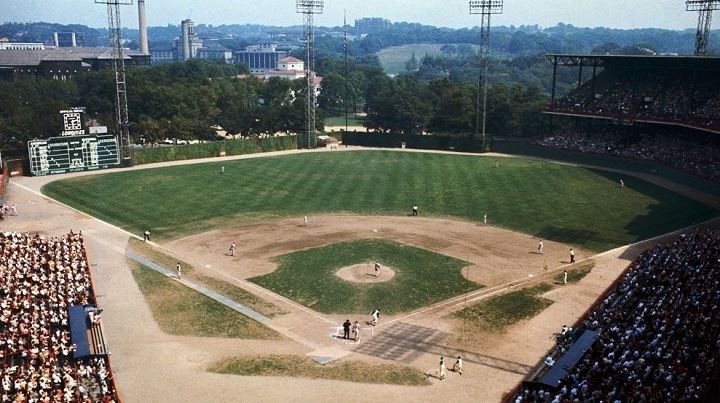 Fifty years ago today I went to my first Major League  Baseball game. The previous fall I had fallen in love with baseball and the Pittsburgh Pirates. The 1968 season is the first one I can remember following from start to finish- mostly listening to the games on the radio. Back then the Pirates would have maybe half the away games on television and no home games were ever on. The radio was fine though because the Pirates had the great Bob Prince aka The Gunner on the radio doing the games.
Around the time of spring training I asked my dad if we could go to a Pirate game and he said when the weather got warmer and on a day he was off he would take me. Sometime in April I looked at the Pirates schedule and saw that the World Champion St. Louis Cardinals were coming to town and my dad said if he was off  on one of those days we would go.
The day finally arrived. It was a Monday night game so I had to go to school and somehow make it through the day. I was seven years old and nearing the end of the first grade. The anticipation was more than waiting for Christmas.
When I got in from school my dad and I went and picked up his friend Bill who was going with us. Pittsburgh was an hour away and I am certain that I'd never been to Pittsburgh before.
The Pirates still played at Forbes Field, which had been built back in 1909. It was located in the Oakland section of Pittsburgh near the University of Pittsburgh. Since it was built in 1909 parking for automobiles wasn't much of a consideration. When you got near the ballpark there were people in the area directing you into their front yards for parking. There was other parking in the area also but I'd recall my dad, uncle and grandfather always complaining about the parking at Forbes Field, how they would like to go to more games but for the parking situation.
I can still picture in my mind the first glimpse of the ballpark. We came in the home plate entrance. When we walked up the ramp to the concourse my first thought of course was I want to see the field. Our seats were on the first base side and I was walking along with my father and Bill- trying to keep up with them but also wanting to see the playing field. The first look I got – the Cardinals were taking batting practice and I do not think I ever saw grass so green. I thought I had gone to heaven. Our seats were good ones- I would guess they were maybe 20 rows back and about even with first base. We found our seats and sat down. I was trying to focus on what was going on and I saw Cardinals first baseman Orlando Cepeda signing autographs down along the railing. My dad encouraged me to go down to get an autograph but I was honestly too shy do go down and have contract with one of these gods of baseball. I knew Cepeda was a very good ballplayer, he had been MVP of the NL in 1967. My dad said something about Cepeda being a good player and all and I replied that he was off to a poor start this season. That was my excuse for being too shy to go down and not getting the autograph of a future Hall of Famer.
I honestly don't recall any details of the game other than I was hooked. I was already thinking of somehow getting back to a game. I am sure I mentioned it to my father and I am sure he said we could come back. He and his friend Bill would bring me back to Forbes Field a number of times, also my Uncle Dave who was a huge baseball fan would come with us on some trips. I also went to Forbes Field with Dave, and my grandfather took me a few times [including the next to last game ever played at Forbes Field- a Saturday day game in June.They would play the last game at Forbes the following day and move to brand spanking new Three Rivers Stadium the next day.   I also remember going to a game with the Little League. I knew my way around- and everyone else was afraid to go anywhere because they hadn't been to a game yet- I was an old timer and my friends finally wondered around the ballpark with me. I was only 7- 9 years old going to those games at Forbes Field so I didn't keep track of how many games I went to their- I would guess between 15-20. My favorite memory of a game there- seeing my baseball hero Willie Stargell tag the great Tom Seaver with a home run that went over the right field roof.
My father would continue to take me to games at Three Rivers Stadium when it opened. I always found a way it seems to make it to 8-10 games a year. I appreciated my father for taking me to those games at the time, no question. I was never a pest about it. I knew he worked etc, he had other things to do. I can't recall him ever saying no-unless he had to work. Today when I look back at it I look back with a different appreciation. My father was not a stone cold baseball nut like I was. If a game was on television and I was watching he'd watch it with me. He didn't listen to the radio games like I did. He had a casual fans knowledge of the game then. I look back at it and he was spending his days off doing something for me- that he wouldn't have done otherwise. Also in those years he was still in his 20's. My sister and brother were born in 1967 and 1968. It wasn't until 1970 that he got a good paying job at the mill. I look back and I realize it couldn't have been easy at the time for my parents. They were still young with three children- two who were infants. He found the time and found the money to feed my passion- baseball. He never said "we don't have the money" He never said "No" He never said "I am going to go fishing instead." or "I don't want to go."  or "It's my day off and I am tired."He took me to the ballgames! Of all the memories I have of my father and they are 99.9% good ones- his taking me to baseball games is my favorite.
When I got old enough to get a drivers license and go on my own for some crazy reason they trusted me with the car to drive up. My dad didn't go to many games after that. Once every few years he would go. That is when I started to realize-although I was a baseball fanatic- everyone in the world didn't live and  die with each Pirate game like I did and my dad wasn't a big fan. That is when the appreciation for what he did started to hit me.
Note – box score for the game is below.  The reason I remember it was the Monday game in this series is because the Cardinals pitcher was Nellie Briles- a future Pirate and he was pitching against Jim Bunning [future Hall of Famer and future US Senator} I knew Bunning had been an outstanding pitcher before coming to the Pirates- but was near the end of the line.  Another note- this series with the Cardinals and Pirates was so 1968- the Year Of The Pitcher. The final score 1-0 Cardinals. The second game of the series was 1-0 Cardinals on Wednesday and the final game of the series on Thursday- an offensive explosion! Pirates 3-0. Three game series and three shutouts.
Below is the box score for the Cardinals vs Pirates on May 13, 1968
https://www.baseball-reference.com/boxes/PIT/PIT196805130.shtml