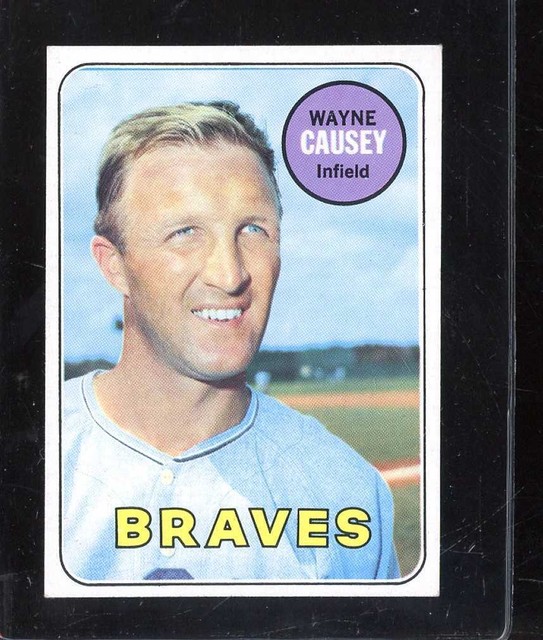 If I were sitting out on the porch and someone had run down the list of the players I have profiled so far-  Wayne Causey is #18- I could given a summary on everyone of them, some with a lot of detail but with Wayne Causey all I could have told you is he played for the A's and was an infielder. It turns out that in 1969- the year of his above baseball card he would not have played- his last season was 1968. I have no memory of ever seeing Wayne Causey play.
Wayne Causey was a shortstop when he was a regular but would also play second and third during his career when he was a utility player. He was 5'10" 175. He was a left handed hitter, threw right handed.
In doing some research on Causey it turns out for a short period of time he was a good ballplayer. Causey signed as a bonus baby in 1955 with the Baltimore Orioles- under the rules at the time, this was before the draft- bonus baby's had to stay with the major league team for two years- so at age 18 and 19 when he wasn't ready at all for major league baseball and needed to be playing everyday in the minors he sat on the bench in Baltimore. In those two seasons he had a total of 263 at bats and hit under .200 each season. He played 14 games with the Orioles in 1957 and then was in the minor leagues for a few years -resurfacing with the Kansas City Athletics after being part of an 8 player trade, it was not a notable deal but did involve future Hall of Fame manager Whitey Herzog going to the Orioles in the deal.
With the Athletics Causey finally got to play. He was in over 100 games each season from 1961-66. His best seasons with the Athletics were 1963 and 1964 when he received votes for the AL MVP. In 1963 he hit .280 and in 1964 he hit .281. He was not a power hitter- both seasons he had 8 home runs which would be a career high.
In 1965 Causey suffered a dislocated shoulder and his career seemed to suffer from this point on. He was traded in May 1966 to the Chicago White Sox for Danny Cater. The A's had a young shortstop destined for stardom- Bert Campanaris and needed to move Causey to make room for him. Causey's days as a regular were over. He would be a utility infielder with the White Sox until he was traded to the California Angels in July 1968- 9 days later he was sold to the Atlanta Braves where he finished his career.
Causey in his prime had a couple good seasons. You have to wonder how much the bonus baby rule hurt his career. During two years when he should have been in the low minors playing everyday and getting experience he was inactive and when he did get to play was over matched by major league pitching. I"d have to think his career would have been better if it had taken a normal path. A number of young players were hurt by this rule back in the 1950's and early 60's and never really recovered.
Wayne Causey is eighty-one years old now living in his native Louisiana.