The 28th POTUS Woodrow Wilson was born on this day in 1856 in Staunton, Virginia.
Ten Notes On Woodrow Wilson
1. Woodrow Wilson was the son of a Presbyterian minister. His mother was the daughter of a Presbyterian minister. His first wife was the daughter of a Presbyterian minister.
2. President Wilson was the first President of the United States to make a visit to Europe while president.
3. Woodrow Wilson was 5″11 brown hair and had blue-gray eyes. He was of Scots-Irish ancestry. Before he was POTUS he was a lawyer, history instructor at Bryn Mawr College, professor of jurisprudence and political economy at Princeton University, President of Princeton University and from 1911-1913 Governor of New Jersey.
4. Woodrow Wilson was the Democratic nominee for POTUS in 1912. He faced two opponents the incumbent Republican President William Howard Taft and former POTUS Theodore Roosevelt who when he lost the Republican nomination ran as a Progressive or "Bull Moose" third party. Taft and Roosevelt both running assured an easy Wilson victory. Wilson came in with 435 electoral votes, Theodore Roosevelt 88 and President Taft only 8. Woodrow Wilson was the first POTUS from the south since before the Civil War.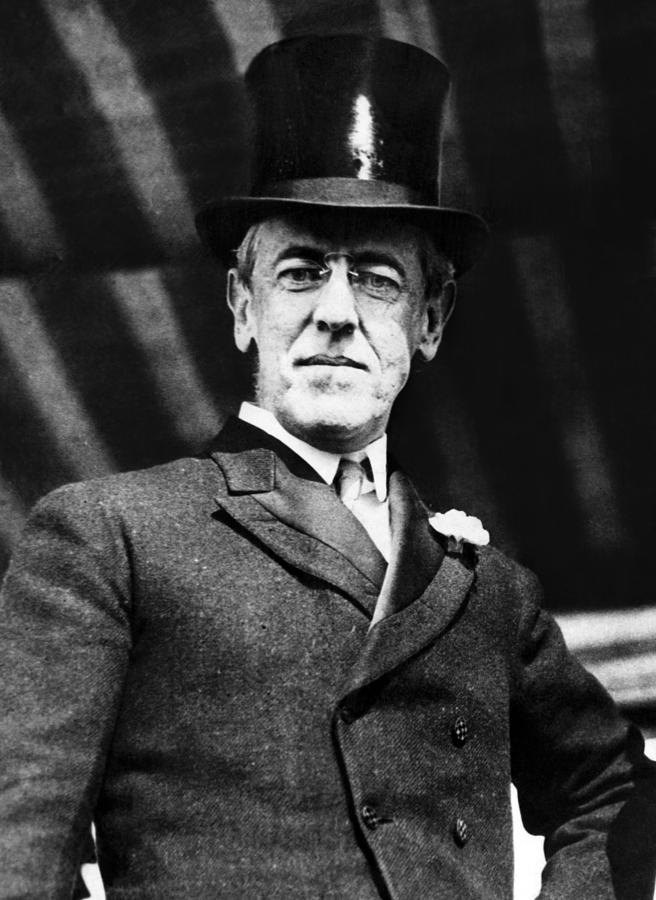 5. Wilson's first wife Ellen died as First Lady on August 6th,1914 of Bright's Disease at the age of  54. The Wilson's had three daughters. Ellen Wilson was the third First Lady to die as First Lady. John Tyler and Benjamin Harrison's wives died while they were in office. Wilson didn't stay a widower for very long. On December 15th, 1915 he married Edith Galt. She would live to be 89 years old. She died on her husband's birthday in 1961. She outlived her husband by 37 years.
6. As POTUS Woodrow Wilson named three men to the Supreme Court the most notable being Louis Brandeis, the first Jewish member of the court. Bradneis would go down as one of Wilson's better decisions. He would serve on the U.S. Supreme Court from 1916-1936. He would go down as one of the most famous and most influential justices in the history of the court.
7. Wilson ran for re-election on the slogan "He Kept Us Out of War' He narrowly defeated Charles Evans Hughes in the 1916 Presidential Election. Wilson got 277 electoral votes to Hughes 254. The Vice Daddy for both of Wilson's terms was Thomas Marshall.  Thomas Marshall is most remembered for his quote "What this country needs is a really good five-cent cigar"
8. Wilson suffered from poor health during his life. In 1906 he suffered a stroke and lost sight in one eye. He suffered from hypertension. Wilson's doctor's told him he needed to take it easy but Wilson ignored their advice. Wilson travelled to Paris in 1919 to attend the peace conference and to present his "14 Point Plan" that he believed would bring a lasting peace. He wanted World War I to be "the war to end all wars' Wilson wanted to establish a "League Of Nations" He returned to the United States  and went on a speaking tour of the country to rally the people behind his plan. The votes were not there in the U.S. Senate to pass the League of Nations in the United States. On October 28th,1919 he suffered a massive stroke in Pueblo, Colorado. He was confined to his bedroom the rest of his presidency and few people got in to see him. His wife Edith was basically running the country. She would bring in the work to him. We do not know how much she had to do with policy decisions but the speculation has always been she had a lot to do with everything from the time of Wilson's stroke until he left office. In 1920 Congress refused to ratify Wilson's Treaty of Versailes and refused to join the League of Nations.
9. In 1920 Wilson was awarded the Nobel Peace Prize. Wilson retired in 1921 to his home in Washington D.C. a bitter and broken man. He died February 3rd, 1924 and was buried at Washington National Cathedral. He is the only POTUS who is buried in Washington D.C. William Howard Taft and Jack Kennedy are buried across the river from Washington D.C. at Arlington National Cemetery in Virginia.
10. Woodrow Wilson didn't learn to read until he was ten. It is believed he may have been dyslexic. He would go on to become the first POTUS to hold a PH.D. degree earned the traditional way. Wilson is ranked as a great or near great POTUS by a lot of the experts. I don't think much of him. I will get into that in another post.